Attributed to Domenico Campagnola
Landscape with Jesus Stilling the Winds and Waves, Two Onlookers in the Foreground (Matthew 8: 23-27; Mark 4: 36-41; Luke 8: 22-25)
Pen and brown ink over black chalk, on laid paper.
10 1/16 x 15 7/8 inches (256 x 403 mm)
Purchased by Pierpont Morgan (1837-1913) in 1909.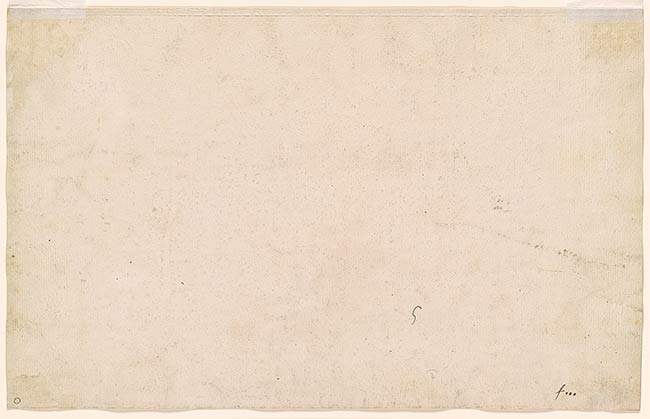 Inscription:
Inscribed on verso at lower right, in pen and brown ink, "f..."; in graphite, "o; S; 2".
Provenance:
Sir Peter Lely (1618-1680), London (no mark; see Lugt 2092; according to Christie's catalogue); Charles Fairfax Murray (1849-1919), London and Florence; from whom purchased through Galerie Alexandre Imbert, Rome, in 1909 by Pierpont Morgan (1837-1913), New York (no mark; see Lugt 1509); his son, J. P. Morgan, Jr. (1867-1943), New York.
Description:
This sheet is from a series of drawings, of about the same size, depicting episodes from the New Testament. One of these drawings is the Temptation of Christ before a Landscape with a City (Christie's, London, 14 December 1982, lot 148). The composition shows the biblical incident of the Storm on the Sea of Galilee (Matthew 8: 23-27; Mark 4: 35-41; Luke 8: 22-25). As Christ and his disciples were in a boat crossing the Sea of Galilee, their boat was struck by a sudden tempest which threatened to sink it. Fearful, the disciples awoke Christ who was asleep on a cushion in the stern of the boat. He stilled the winds and the sea, and then rebuked the disciples for their fears. Domenico has captured the moment when the disciples rush to wake Christ, who may be seen asleep, his head leaning on his bent arm, in the bow – rather than the stern – of the small boat. On the shore, stand two unidentified onlookers.
In his recent dissertation on Campagnola's landscapes, Tobias Nickel has rejected the attribution to Campagnola and suggested a possible alternate attribution to Constantino Malombra.
Bibliography:
Cleveland 1927, no. 67; Tietze and Tietze-Conrat 1944, 129, no. 512; Santagiustina Poniz 1981, 68, 70 n.61; Nickel 2017, 194 and cat. X-117.
Collection J. Pierpont Morgan : Drawings by the Old Masters Formed by C. Fairfax Murray. London : Privately printed, 1905-1912, I, 67; IV, 67, repr.
Associated names:
Lely, Peter, Sir, 1618-1680, former owner.
Murray, Charles Fairfax, 1849-1919, former owner.
Morgan, J. Pierpont (John Pierpont), 1837-1913, former owner.