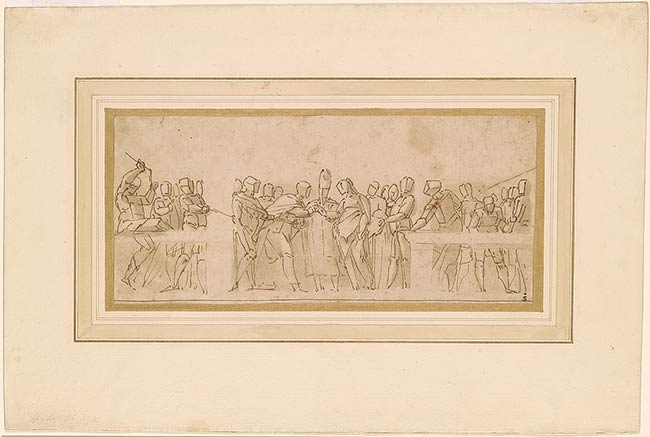 Pen and brown ink, with brown wash, over black chalk, on paper.
5 3/8 x 12 1/8 inches (138 x 309 mm)
Inscription:
Inscribed on verso of mount, at upper center, in pen and brown ink, "M / No. [o superscript] 8"; at lower left, in pen and brown ink, "No. [o superscript] 712; Cangiagio"; at upper right, in graphite, "Nt [t superscript] (?) L 50."
Provenance:
The Earls of Spencer, Althorp House, Northamptonshire (Lugt 1530); Spencer sale, London, 1947?, lot 116, no. 2 (according to note at lower left of mount); Dr. Max A. Goldstein (1870-1941), St. Louis (see Lugt 2824); Janos Scholz (1903-1993) New York (see Lugt Suppl. 2933b).
Description:
According to Suida Manning and Manning, the drawing is a study for the fresco in the Lercari Chapel in the left nave of the cathedral of Genoa, painted ca. 1567-69. There are variants of this composition in the British Museum, London (inv. 1946,0713.294); in the Galleria Regionale in Palermo (Critica d'Arte 1986, 12) in a Genoese private collection (Critica d' Arte 1986, 12). In the 1560s Cambiaso worked for the same patrons when he decorated the salone in the palace of Cristoforo Lercari at Portavecerchia near Genoa with stories from the Aeneid (Biavati 1984).
A drawing of the Presentation in the Temple at the Courtauld Galleries, London (inv. 1947) may represent an alternative design for the same project. It too is of an oblong shape and here too the event takes place at the center, while the onlookers on either side stand behind a balustrade.
Bibliography:
: Indianapolis 1954, no. 48; Middletown 1955; Suida Manning and Suida 1958, 33; Notre Dame 1967, no. 7; New York 1967-68, no. 16.
The Life of the Virgin Mary : Drawings from the János Scholz Collection. Notre Dame : Snite Museum of Art, University of Notre Dame, 1967, no. 7.
Notes:
Watermark: none visible through lining.
Associated names:
Spencer, Earl, former owner.
Goldstein, Max A. (Max Aaron), 1870-1941, former owner.
Scholz, János, former owner.