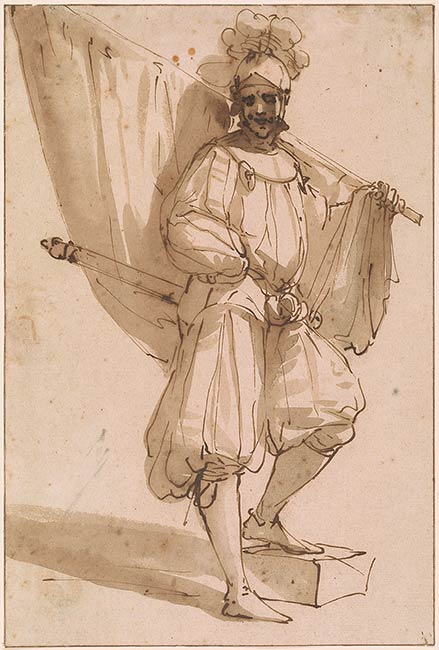 Attributed to Luca Cambiaso
Pen and brown ink and wash, on paper; framing lines in pen and brown ink.
10 7/8 x 7 1/4 inches (276 x 185 mm)
Purchased as the gift of the Fellows.
Inscription:
Very faintly inscribed at lower left, in graphite, "Cambiaso"; on verso at upper center, in graphite, "No 63"; at lower right, in pencil, "oudpapier / als AvanDyk".
Watermark: Pilgrim, holding staff, inside circle, above letters "GR". Similar to Briquet 7593 (Draguignan, Provence, Cote d'Azur, 1561), standing man wearing hat.
Provenance:
Sale, Paris (according to Weitzner), as Annibale Carracci; Julius H. Weitzner (1896-1986), New York and London (owned jointly with Robert Lehel), from whom purchased.
Description:
Another version of this composition is in Stockholm, where it is attributed to Giulio Benso (Bjurström 1979, no. 297). A further drawing, since destroyed, showing a standard bearer followed by a dog, was in the Istituto Jovellanos in Gijon, where it was catalogued as by Luca Cambiaso (Perez Sanchez 1969, no. 167). Yet another drawing of a standard bearer, in this instance with a raised flag, was on the London art market (Sotheby's, London, 7 December 1987, lot 139).
Bibliography:
Pierpont Morgan Library. Review of Acquisitions, 1949-1968. New York : Pierpont Morgan Library, 1969, p. 135.
Adams, Frederick B., Jr., comp. Ninth Report to the Fellows of the Pierpont Morgan Library, 1958 & 1959. New York : Pierpont Morgan Library, 1959, p. 93.
Notes:
Associated name: Giulio Benso, 1592-1668.
Associated names:
Benso, Giulio, 1592-1668, associated name.
Weitzner, Julius, -1986, former owner.
Lehel, Robert, former owner.