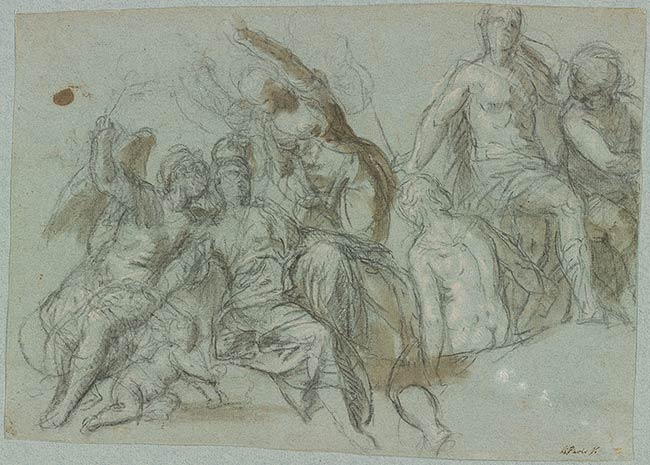 Group of Figures for a Ceiling Decoration
Black chalk, brown wash, with wet white chalk, on blue paper.
8 1/2 x 11 7/8 inches (217 x 301 mm; maximum dimensions)
Purchased on the Fellows Fund, with the special assistance of Mrs. Gerrit P. Van de Bovenkamp.
Inscription:
Inscribed at lower right, in pen and brown ink, "di Paolo V."; on verso, at left center, "D.P. n8̊8"; and on Sagredo-"Borghese" mount, in pen and brown ink, "D.P.n:̊99".
Provenance:
Sagredo-"Borghese" (Lugt S. 2130a); private collection, England; sale, London, Christie's, 7 July 1981, no. 23, repr.; Baskett & Day, London.
Notes:
Watermark: indecipherable image in circle.
Associated names:
Sagredo-Borghese, former owner.
Bovenkamp, Gerrit P. van de, Mrs., donor.