Study for the Figure of Saint John Bearing the Feet of the Dead Christ
Pen and brown ink and wash with opaque lead white watercolor (partially oxidized), on light brown toned paper; squared in red and black chalk and with stylus indentations.
11 5/8 x 7 11/16 inches (294 x 195 mm)
Purchased by Pierpont Morgan (1837-1913) in 1909.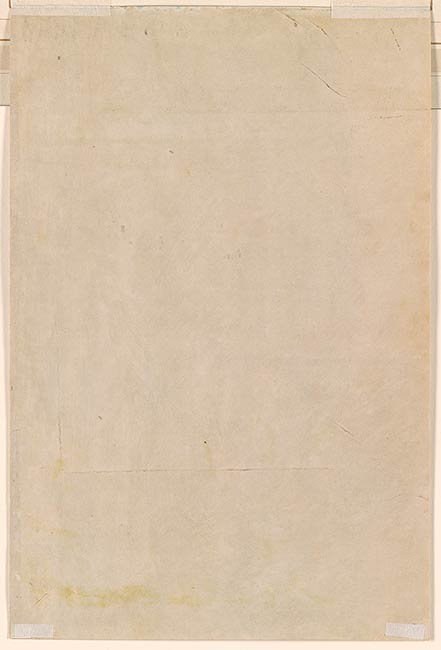 Provenance:
Sir Charles Greville (1763-1836), English army officer (Lugt 549); by descent to his nephew, George Guy Greville, fourth Earl of Warwick, (1818-1893 Lugt 2600), Warwick Castle; Charles Fairfax Murray (1849-1919), London and Florence; from whom purchased through Galerie Alexandre Imbert, Rome, in 1909 by Pierpont Morgan (1837-1913), New York (no mark; see Lugt 1509); his son, J. P. Morgan, Jr. (1867-1943), New York.
Description:
The drawing is a study, in reverse, for the figure of Saint John the Evangelist in the painting of The Entombment of Christ in the church of the Holy Cross in Senigallia, near Urbino, begun in 1579 and completed by Barocci in 1582 (Emiliani 1985, 150-67). It was the altarpiece for the chapel of the Confraternita della Croce e Sagramento in Senigallia, and an extensive sequence of over 30 preparatory drawings for the Senigallia Entombment survives. Cartoons for the entire composition exist in the Dutch Royal collection (Paris and elsewhere 1962, no. 128) and the J. Paul Getty Museum, Los Angeles (inv. 85.GG.26; Goldner 1988, no. 3). Studies for the same figure include an oil sketch for the head of Saint John in a private collection (Pillsbury 1978, 171, no. 1) and a chalk figure study formerly in the Koenigs collection in Rotterdam and now in the Pushkin Museum, Moscow.
Bibliography:
Olsen 1955, 134; Olsen 1962, 172; Bertela 1975, 52; Cleveland and New Haven 1978, 62-63, no. 39; Boston and elsewhere 1989, 90, no. 40; Marciari & Verstegen 2008, 312.
Notes:
Watermark: none.
Study for the figure of Saint John in Barocci's Entombment in the Church of Santa Croce, Senigallia, 1579-82.
Associated names:
Greville, Charles, 1762-1832, former owner.
Warwick, George Guy Greville, Earl of, 1818-1893, former owner.
Murray, Charles Fairfax, 1849-1919, former owner.
Morgan, J. Pierpont (John Pierpont), 1837-1913, former owner.