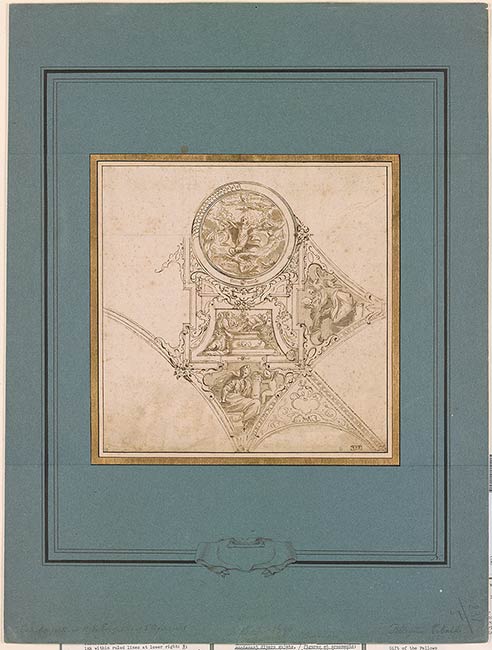 Attributed to Giovanni Baglione
The Assumption of the Virgin with the Apostles around the Tomb; a Prophet and a Sibyl
Pen and brown ink, with brown wash, on paper.
9 7/16 x 9 3/8 inches (240 x 237 mm)
Purchased as the gift of the Fellows.
Provenance:
P.J. Mariette, Paris (Lugt 2097); Seroux d'Agincourt (inscription on mount); Baron Henri de Triqueti, Paris (Lugt 1304); Eugène Rodrigues, Paris (Lugt 897); Francois Monod (inscription on mount); Dr. C.R. Rudolf, London (see Lugt S. 2811b).
Bibliography:
Adams, Frederick B., Jr., comp. Thirteenth Report to the Fellows of the Pierpont Morgan Library, 1963 & 1964. New York : Pierpont Morgan Library, 1964, p. 95.
Pierpont Morgan Library. Review of Acquisitions, 1949-1968. New York : Pierpont Morgan Library, 1969, p. 130.
Notes:
Design for a ceiling.
In rare instances, Pierre-Jean Mariette did not inscribe an artist's name in the cartouche on the mount, most likely because he was unsure about the drawing's correct author. In 1765 he commented on the uncertainty inherent in the study of drawings: "It is almost as those who write about art are struck by a curse, as everyone has made and keeps making incredible mistakes every day. And this is true also for me as I made mistakes on things I knew as well as my own." -- Exhibition Label, from "Pierre-Jean Mariette and the Art of Collecting Drawings."
Associated names:
Mariette, Pierre Jean, 1694-1774, former owner.
Seroux d'Agincourt, J. B. L. G. (Jean Baptiste Louis Georges), 1730-1814, former owner.
Triqueti, Henri Joseph François, baron de, 1804-1874, former owner.
Rodrigues, Eugène, former owner.
Monod, François, former owner.
Rudolf, C. R. (C. Robert), former owner.