Three Vertical Designs for Grotesques
Red chalk, inscribed with stylus, on laid paper.
12 1/8 x 7 7/8 inches (309 x 200 mm)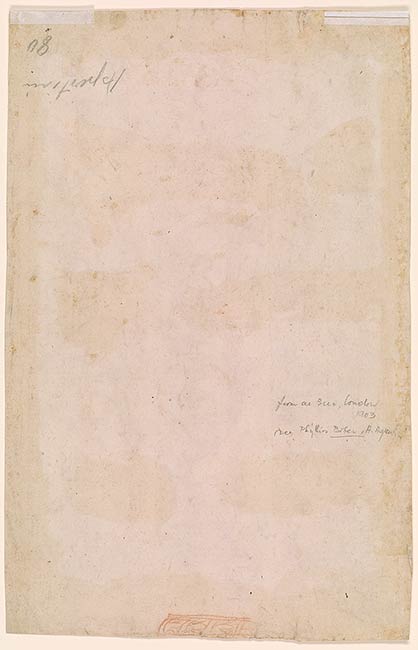 Inscription:
Inscribed in plaquettes at upper center and at right center, in red chalk, by the artist "ROMA"; on verso, at lower right, in black chalk, "Aspertini / 80"; erased, [three dots in a triangle pattern] "7".
Provenance:
De Beer, London; from whom purchased in 1963 by János Scholz (1903-1993), New York (no mark; see Lugt S. 2933b).
Description:
When the drawing entered the collection of the Morgan Library & Museum, it was thought to be by Amico Aspertini. This attribution, however, was not accepted by Faietti and Scaglietti Kelescian in their 1995 publication on the artist. The drawing is probably instead by an artist based in Rome in the early sixteenth century, perhaps someone in the circle of Baldassare Peruzzi and Cesare da Sesto. The grotteschi are also similar to those in Agostino Veneziano's so-called Ornamental Panel engraving supposedly after a design by Raphael (Bartsch XIV.393.561).
Bibliography:
Faietti and Scaglietti Kelescian 1995, 320, no. 24R.
Notes:
Watermark: none.
Acquired as Amico Aspertini. Bologna 1474/75-1552 Bologna.
Associated names:
Aspertini, Amico, 1474-1552, Formerly attributed to.
Scholz, János, former owner.