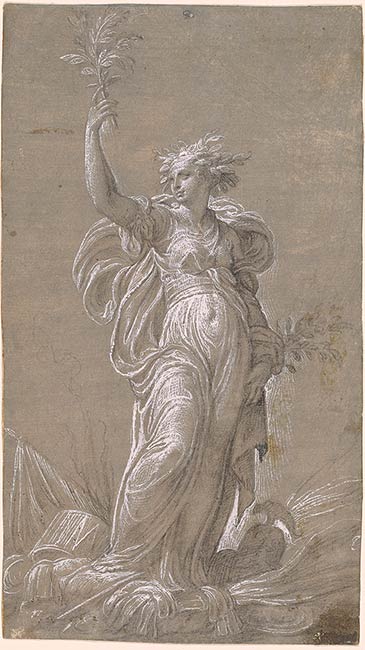 Black chalk, with opaque white watercolor, on gray prepared paper.
9 3/4 x 5 1/2 inches (247 X 139 mm)
Gift of Mr. and Mrs. H. W. Janson in honor of Felice Stampfle.
Inscription:
Inscribed at lower right, in pen and brown ink: "Fa...[illegible]"; on verso of secondary support, at upper right, in pen and brown ink: "37 nicolo A[bate]"; at upper center, in pen and brown ink, "17"; on verso of tertiary support, at center, in pen and brown ink, "S.R.⁰.11".
Provenance:
"Borghese"-Sagredo collection; Mr. and Mrs. Horst Woldemar Janson, New Rochelle (in 1973).
Description:
The present drawing features a personification of Peace wearing a crown of olive branches and holding another olive branch aloft. She stands triumphantly on the arms of war, which include a helmet, a cuirass, a drum, and a banner. As Jacob Bean and Felice Stampfle observed, the pose in the present study reoccurs in Nicolò's drawing of The Women Before Coriolanus, now in the Albertina, Vienna.1 The Morgan study is similar in style and handling to Nicolò's series of designs of ca. 1552, now in the École des Beaux-Arts in Paris, featuring angels bearing the instruments of the Passion and which served as designs for enamels executed by Léonard Limosin for the Sainte Chapelle, Paris.2 Another study, in the Musée des Beaux-Arts, Rennes, depicts an allegory of Abundance or Peace and may relate to a similar project.3
The Morgan drawing, whose style is still heavily influenced by Parmigianino, is thought to have been executed in the 1540s while Nicolò was active in his native Modena, or very soon after the artist's arrival in France in 1552. Writing in 1973, Sylvie Béguin considered that its style "very much suggests certain drawings Nicolo made between 1547 and 1550".4
Footnotes:
Albertina, Vienna, inv. 14396; New York 1965-66, 65, no. 107.
Paris and elsewhere 1994, 82-86, no. 29.
Musée des Beaux-Arts, Rennes, inv. 794.1.2517; Modena and Rennes 1990, no. 30.
Ottawa 1973, 2: 27.
Bibliography:
Selected references: Indianapolis 1954, no. 26; New York 1965-66, 65, no. 107; Béguin, in Ottawa 1973, 1: 142; 2: 27, no. A; Fellows Report 1981, 166, 172.
Stampfle, Felice, and Jacob Bean. Drawings from New York collections. I: The Italian Renaissance. New York : Metropolitan Museum of Art : Pierpont Morgan Library, 1965.
Ryskamp, Charles, ed. Nineteenth Report to the Fellows of the Pierpont Morgan Library, 1978-1980. New York : Pierpont Morgan Library, 1981, p. 172.
Notes:
Watermark: none visible through lining.
Associated names:
Sagredo, Zaccaria, active 16th century, former owner.
Janson, H. W. (Horst Woldemar), 1913-1982, former owner.
Janson, Dora Jane, 1916-2002, former owner.