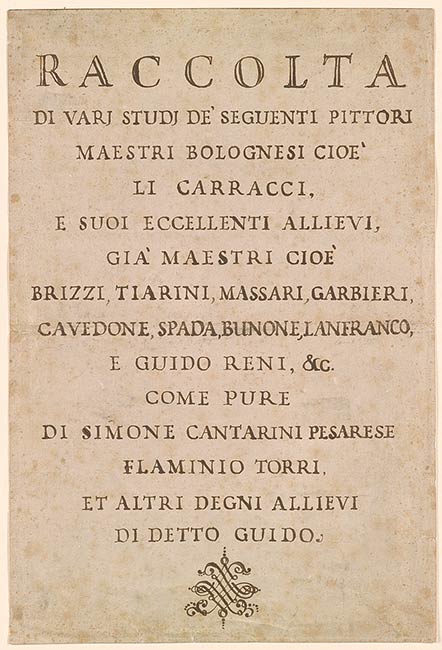 Title page to Album of Bolognese drawings from the Albertina
Pen and brown ink on paper.
18 x 12 1/8 inches (457 x 308 mm)
Inscription:
Lettered, "RACCOLTA/ DI VARI STUDI DE' SEGUENTI PITTORI/ MAESTRI BOLOGNESI CIOE/̀ LI CARRACCI,/ E SUOI ECCELLENTI ALLIEVI,/ GIA ̀MAESTRI CIOE/̀ BRIZZI, TIARINI, MASSARI, GARBIERI,/ CAVEDONE, SPADA, BUNONE, LANFRANCO,/ E GUIDO RENI &CC./ COME PURE/ DI SIMONE CANTARINI PESARESE/ FLAMINIO TORRI/ ET ALTRI DEGNI ALLIEVI/ DI DETTO GUIDO".
Watermark: Letters "CAA" ? in circle, surmounted by trefoil.
Associated names:
Scholz, János, former owner.