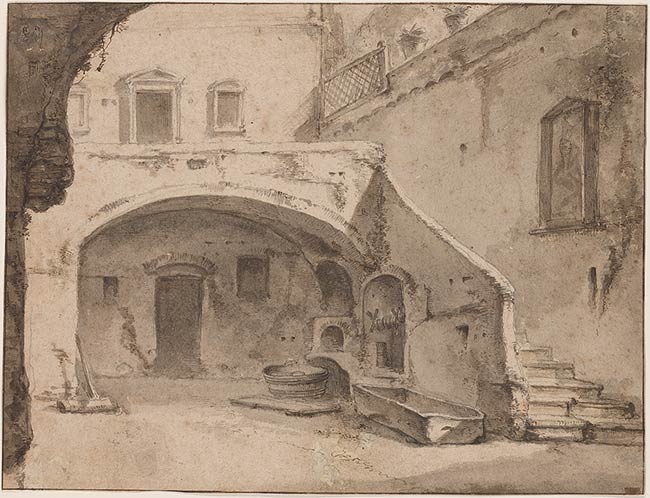 View of an Italian Courtyard with Stairway on the Right
Pen and brown ink, gray and brown washes, over black chalk and graphite, on paper; framing line in brown ink.
11 7/8 x 15 11/16 inches (302 x 399 mm)
Purchased as the gift of the Fellows.
Inscription:
Dealer or collector's code and number inscribed on the verso, in center, in graphite, "95"; at lower center, in graphite, "3".
Watermark: possibly Arms of Basel (similar to Heawood, no. 1183: England, early 17th century), crozier.
Provenance:
Henry Temple, 2nd Viscount Palmerston (1739-1802), Broadlands, near Romsey, Hampshire, and London; his son, Henry John Temple, 3rd Viscount Palmerston (1784-1865), Broadlands and London; his widow, Mary (née Clavering), Lady Palmerston (d. 1869), Broadlands; her grandson, the Rt. Hon. Evelyn Ashley (1836-1908), Broadlands; possibly his sale, London, Christie's, 24 April 1891, part of lot 153: "Landscapes, by John Wyck; etc. 4"; acquired from Bernard Houthakker, Amsterdam.
Bibliography:
Adams, Frederick B., Jr., comp. Twelfth Report to the Fellows of the Pierpont Morgan Library, 1962. New York : Pierpont Morgan Library, 1963, p. 78.
Pierpont Morgan Library. Review of Acquisitions, 1949-1968. New York : Pierpont Morgan Library, 1969, p. 177.
Stampfle, Felice. Rubens and Rembrandt in Their Century: Flemish and Dutch Drawings of the Seventeenth Century from The Pierpont Morgan Library. New York : Pierpont Morgan Library, 1979, no. 95, repr.
Jane Shoaf Turner, with contributions by Felice Stampfle, Dutch Drawings in the Pierpont Morgan Library: Seventeenth to Nineteenth Centuries, New York, 2006, cat. no. 338.
Notes:
Although this drawing was apparently not used for one of Wijck's etchings-as was the case with some of his sunlit courtyard scenes-it forms part of an extensive series representing the same motif from different points of view. It served as the basis for a somewhat smaller, but more elaborate signed composition in the Rijksprentenkabinet, Amsterdam (Inv. no. A 1543).
Associated names:
Palmerston, Henry Temple, Viscount, 1739-1802, former owner.
Palmerston, Henry John Temple, Viscount, 1784-1865, former owner.
Palmerston, Emily Lamb, Viscountess, 1787-1869, former owner.
Ashley, Evelyn, 1836-1907, former owner.