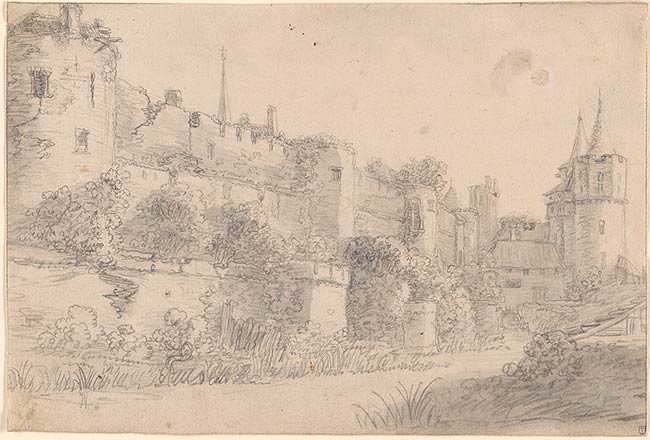 View of the Rotterdam Gate at Delft. Verso: Sketches of Sailboats and Two Seated Figures
Graphite and gray wash, on paper; verso: graphite.
7 5/8 x 11 3/8 inches (194 x 289 mm)
Purchased as the gift of Mrs. Gerard B. Lambert, Baron Leon Lambert, John H. Loudon, and John S. Thatcher.
Inscription:
Inscribed on the verso, in graphite, at upper right (turned upside down), "S. de Vlieger / Delft.Rotterd.Poort"; at lower center, "4"; at lower right, above stamped collector's mark of Rech, "376"; and next to this, "150".
Watermark: Countermark: Letters "PD" centered between chain lines.
Provenance:
Possibly E. de Burlett; possibly his sale, Amsterdam, de Vries...Brondgeest, 23 August 1850, Album 10: "Negende deel. Inhoudende: Gezigten om en bij de stad... door C.J. Visser, S. de Vliege, ..." (to "Mattens" for 17.0.0 fl.); Dr. M.K.H. Rech (1879-1946), Bonn (Lugt S. 2745a and 2745b); Bernard Houthakker, Amsterdam (Lugt 1272); his sale, Amsterdam, Sotheby Mak van Waay, 17-18 November 1975, lot 81, repr.; F.W.A. Knight Esq.; his sale, Amsterdam, Sotheby Mak van Waay, 29 October 1979, lot 34, repr.
Bibliography:
Ryskamp, Charles, ed. Nineteenth Report to the Fellows of the Pierpont Morgan Library, 1978-1980. New York : Pierpont Morgan Library, 1981, p. 220-221.
Jane Shoaf Turner, with contributions by Felice Stampfle, Dutch Drawings in the Pierpont Morgan Library: Seventeenth to Nineteenth Centuries, New York, 2006, cat. no. 327.
Associated names:
Waterloo, Anthonie, 1610-1690, Formerly attributed to.
Lambert, Gerard B., Mrs., donor.
Lambert, Leon, Baron, donor.
Loudon, John H., donor.
Thatcher, John S., donor.
Burlett, E., former owner.
Rech, M. K. H., former owner.
Knight, F. W. A., former owner.