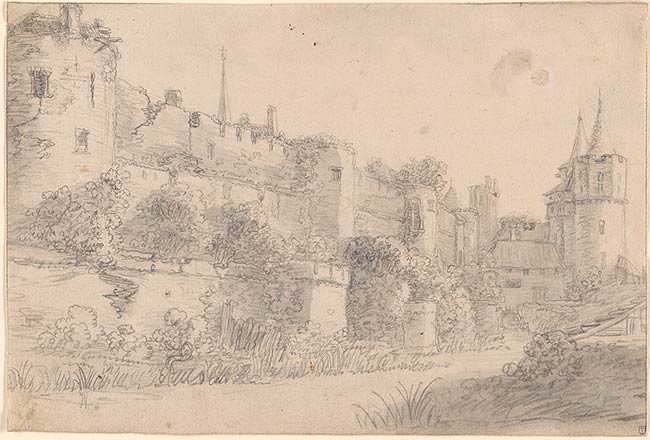 View of the Rotterdam Gate at Delft. Verso: Sketches of Sailboats and Two Seated Figures
Graphite and gray wash, on paper; verso: graphite.
7 5/8 x 11 3/8 inches (194 x 289 mm)
Purchased as the gift of Mrs. Gerard B. Lambert, Baron Leon Lambert, Mr. John H. Loudon, and Mr. John S. Thatcher.
Inscription:
Inscribed on the verso, in graphite, at upper right (turned upside down), "S. de Vlieger / Delft.Rotterd.Poort"; at lower center, "4"; at lower right, above stamped collector's mark of Rech, "376"; and next to this, "150".
Provenance:
Possibly E. de Burlett; possibly his sale, Amsterdam, de Vries...Brondgeest, 23 August 1850, Album 10: "Negende deel. Inhoudende: Gezigten om en bij de stad... door C.J. Visser, S. de Vliege, ..." (to "Mattens" for 17.0.0 fl.); Dr. M.K.H. Rech (1879-1946), Bonn (Lugt S. 2745a and 2745b); Bernard Houthakker, Amsterdam (Lugt 1272); his sale, Amsterdam, Sotheby Mak van Waay, 17-18 November 1975, lot 81, repr.; F.W.A. Knight Esq.; his sale, Amsterdam, Sotheby Mak van Waay, 29 October 1979, lot 34, repr.
Notes:
Watermark: countermark with letters "PD".