Pastoral Scene at a Waterfall
Point of brush, black ink and wash, on paper.
9 1/2 x 13 15/16 inches (242 x 354 mm)
Purchased by Pierpont Morgan (1837-1913) in 1909.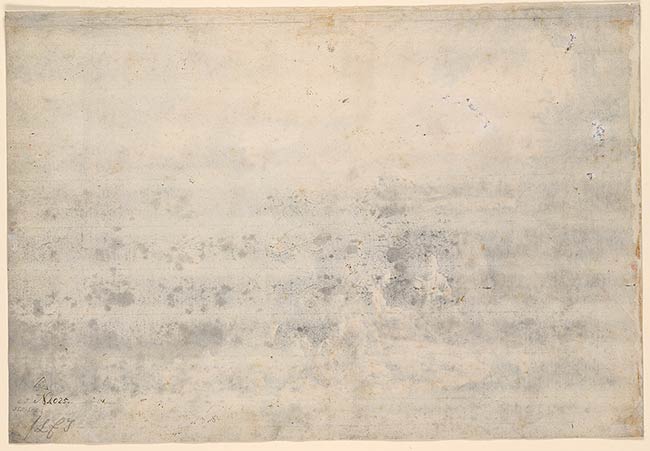 Inscription:
Signed and dated at lower left, in brown ink, "A.V.Velde. F / 1662". On the verso, numbered at upper left margin, in graphite, "8"; inscribed at the lower left corner, in graphite, with dealer's code, "dJ / JLS-LOS-:"; and below that, in another hand, in graphite, "LfJ".
Watermark: Horn with strap, in a crowned shield, over "4" and letters "WR", (similar to Heawood, no. 2723: Amsterdam, 1671).
Provenance:
Jonkheer Johan Goll van Franckenstein the Younger (1756-1821), Amsterdam (his N 4025 in brown ink on the verso; Lugt 2987); Jonkheer Pieter Hendrik Goll van Franckenstein (1787-1832), Amsterdam; his sale, Amsterdam, de Vries...Roos, 1 July 1833, Album T, lot 1 (to Woodburn for 900 fl.); Samuel Woodburn (1786-1853), London (no mark; see Lugt 2584); C.J. Nieuwenhuys (1799-1883), Brussels, Belgium, and Oxford Lodge, Wimbledon, England (according to Fairfax Murray); Robert Stayner Holford (1808--92), London and Westonbirt, Gloucestershire. (Lugt 2243); his sale, London, Christie's, 11-14 July 1893, lot 676 (to Salting for £46.0.0); George Salting (1835-1909), London (no mark; see Lugt 2260-61); Charles Fairfax Murray (1849-1919), London and Florence; from whom purchased through Galerie Alexandre Imbert, Rome, in 1909 by Pierpont Morgan (1837-1913), New York (no mark; see Lugt 1509); his son, J. P. Morgan, Jr. (1867-1943), New York.
Bibliography:
Collection J. Pierpont Morgan : Drawings by the Old Masters Formed by C. Fairfax Murray. London : Privately printed, 1905-1912, I, 149, repr.
Stampfle, Felice. Rubens and Rembrandt in Their Century: Flemish and Dutch Drawings of the Seventeenth Century from The Pierpont Morgan Library. New York : Pierpont Morgan Library, 1979, no. 123, repr.
Jane Shoaf Turner, with contributions by Felice Stampfle, Dutch Drawings in the Pierpont Morgan Library: Seventeenth to Nineteenth Centuries, New York, 2006, cat. no. 295.
Notes:
This highly finished modello served as the basis for van de Velde's painting dated a year later, in 1663, formerly in the collection of Baron Heinrich Thyssen-Bornemisza, Lugano, and later in that of his daughter Baroness Gabrielle Bentinck, Paris.
Associated names:
Goll van Franckenstein, Johan, 1756-1821, former owner.
Goll van Franckenstein, Pieter Hendrik, 1787-1832, former owner.
Woodburn, Samuel, 1785 or 1786-1853 former owner.
Nieuwenhuys, C. J., 1799-1883, former owner.
Holford, Robert Stayner, 1808-1892, former owner.
Salting, George, 1835-1909, former owner.
Murray, Charles Fairfax, 1849-1919, former owner.
Morgan, J. Pierpont (John Pierpont), 1837-1913, former owner.