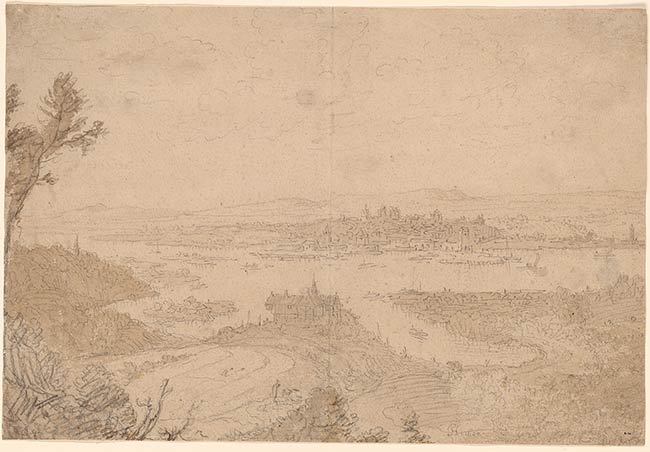 Distant View of a Town on a River
Black chalk and brown wash on paper.
9 1/8 x 13 1/2 inches (231 x 343 mm)
Gift of Miss Felice Stampfle.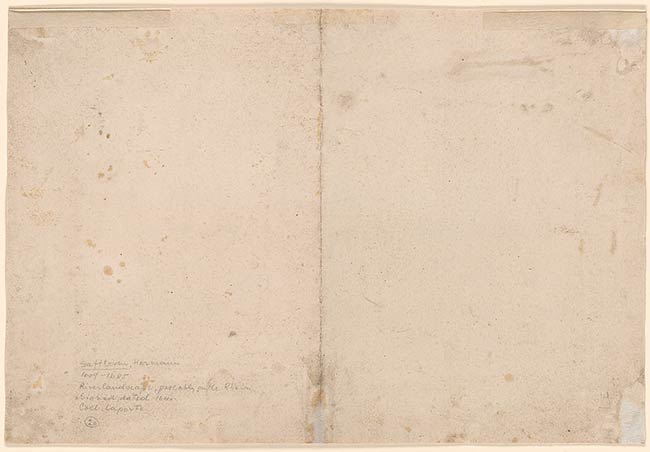 Inscription:
Signed with monogram and dated at lower right center, in black chalk, "HSL (in ligature) 164[0?]". Inscribed on the verso, in graphite, at lower right (turned sideways), "LE"; and at lower left, in a modern hand (possibly that of Julius Weitzner), "Saftleven, Hermann / 1609-1685 / River Landscape, probably on the Rhein / signed, dated 1640 / Coll. La porte / 20 (encircled)".
Watermark: Fleur-de-lis in shield, surmounted by crown, (Strasbourg lily), (similar to Heawood, no. 1745: 1645) .
Provenance:
Dr. G.L. Laporte, New York (Lugt 1170); Julius Weitzner, New York; Felice Stampfle (1912-2000), New York.
Bibliography:
Ryskamp, Charles, ed. Eighteenth Report to the Fellows of the Pierpont Morgan Library, 1975-1977. New York : Pierpont Morgan Library, 1978, p. 291.
Stampfle, Felice. Rubens and Rembrandt in Their Century : Flemish and Dutch Drawings of the Seventeenth Century from The Pierpont Morgan Library. New York : Pierpont Morgan Library, 1979, no. 85, repr.
Jane Shoaf Turner, with contributions by Felice Stampfle, Dutch Drawings in the Pierpont Morgan Library: Seventeenth to Nineteenth Centuries, New York, 2006, cat. no. 273.
Notes:
The character of the landscape suggests that this drawing--obviously from a sketchbook to judge from the center fold--may have been made during the course of Herman Saftleven's travels along the Rhine and its tributaries.
Associated names:
Laporte, G. L., former owner.
Weitzner, Julius, -1986, former owner.
Stampfle, Felice, former owner.