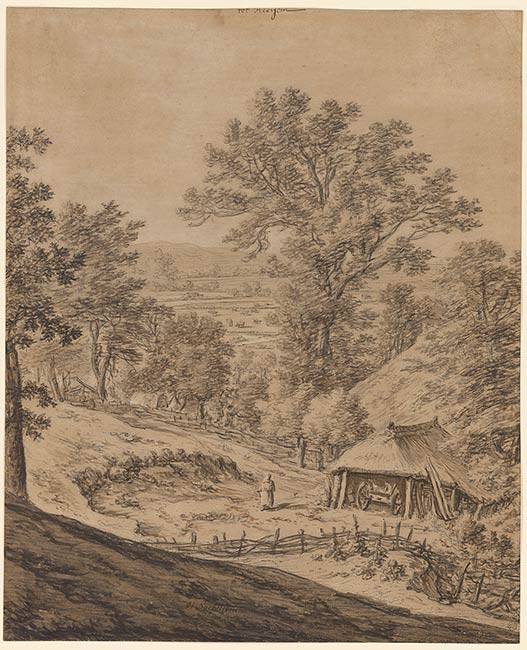 Black chalk, brush and brown wash; with opaque white watercolor, on paper washed with light brown.
17 5/8 x 14 5/16 inches (447 x 364 mm)
Purchased by Pierpont Morgan (1837-1913) in 1909.
Inscription:
Inscribed by the artist, at upper center, in brown ink. "tot Heelsom (partly cut off)"; and at lower right edge, traces of his monogram, in black chalk (partly cut off); at lower center, in another hand, in brown ink, "H. Sachtleben"; on the verso, at lower left, in graphite, "D. 30 fl".
Watermark: Fleur-de-lis in shield, surmounted by crown, over "4" and letters "WR", (Strasbourg lily).
Watermark: Countermark: Cross above letters "IHS" and "IR", (Christogram) (similar to Heawood, no. 1785: 1670).
Provenance:
Sir Charles Greville (1763-1836), English army officer (Lugt 549); George Guy Greville, 4th Earl of Warwick (1818-93), Warwick Castle (Lugt 2600); his sale, London, Christie's, 20-21 May 1896, lot 359; Charles Fairfax Murray (1849-1919), London and Florence; from whom purchased through Galerie Alexandre Imbert, Rome, in 1909 by Pierpont Morgan (1837-1913), New York (no mark; see Lugt 1509); his son, J.P. Morgan, Jr. (1867-1943), New York.
Bibliography:
Collection J. Pierpont Morgan : Drawings by the Old Masters Formed by C. Fairfax Murray. London : Privately printed, 1905-1912, III, 188.
Stampfle, Felice. Rubens and Rembrandt in Their Century : Flemish and Dutch Drawings of the Seventeenth Century from The Pierpont Morgan Library. New York : Pierpont Morgan Library, 1979, no. 86, repr.
Jane Shoaf Turner, with contributions by Felice Stampfle, Dutch Drawings in the Pierpont Morgan Library: Seventeenth to Nineteenth Centuries, New York, 2006, cat. no. 274.
Notes:
The inscription refers to Heelsum, a small village in Gelderland, between Rhenen and Arnhem, just outside of Renkum. Heelsum is represented in drawings by Saftleven in Leiden (Inv. no. A W-1277), in a private collection in Augsburg, in the Teyler Museum, Haarlem (Inv. no. P-46), and in the collection of Robert Jung, Freiburg. The sheet was probably made during the artist's journey through Gelderland in 1644, though he is also known to have redrawn compositions later in the studio based on sketches made while traveling.
Associated names:
Greville, Charles, 1762-1832, former owner.
Warwick, George Guy Greville, Earl of, 1818-1893, former owner.
Murray, Charles Fairfax, 1849-1919, former owner.
Morgan, J. Pierpont (John Pierpont), 1837-1913, former owner.