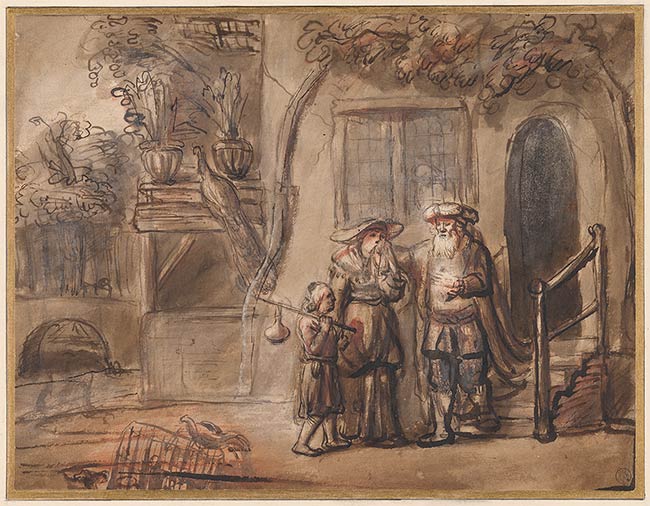 Attributed to Constantijn Hoogstraten Renesse,
Abraham Dismissing Hagar: Genesis 2: 9-21. Verso: sketches of the figures of Abraham, Hagar, and Ishmael
Pen and brown ink, brown and black wash, red chalk, opaque white, over black chalk, on paper; verso: graphite.
7 5/8 x 10 inches (194 x 254 mm)
Purchased by Pierpont Morgan (1837-1913) in 1909.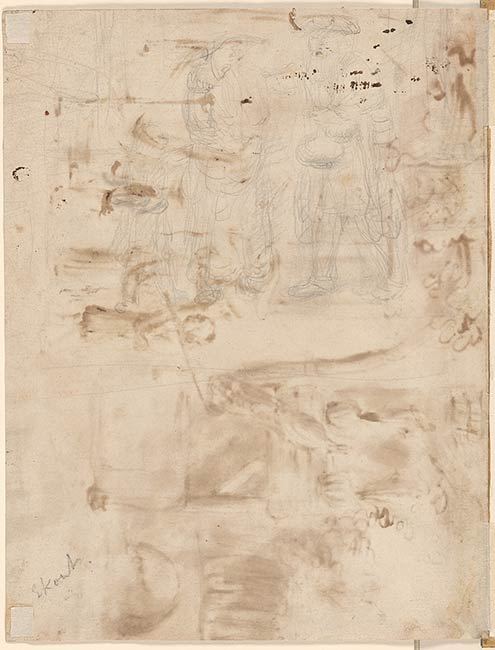 Inscription:
Inscribed on the verso, at lower right, in graphite, "Ekout".
Provenance:
George Guy, 4th Earl of Warwick (1818-93), Warwick Castle (Lugt 2600); his sale, London, Christie's, 20-21 May 1896, one of two in lot 129 (as van den Eeckhout to Fairfax Murray for £4.4.0); Charles Fairfax Murray (1849-1919), London and Florence; from whom purchased through Galerie Alexandre Imbert, Rome, in 1909 by Pierpont Morgan (1837-1913), New York (no mark; see Lugt 1509); his son, J. P. Morgan, Jr. (1867-1943), New York.
Bibliography:
Collection J. Pierpont Morgan : Drawings by the Old Masters Formed by C. Fairfax Murray. London : Privately printed, 1905-1912, I, 216, repr. (as school of Rembrandt).
Notes:
Watermark: none.
Corrections to Renesse's drawing executed by Samuel van Hoogstraten (1627-78).
On same mat with I, 217a.
Formerly attributed to the School of Rembrandt Harmenszoon van Rijn, 1606-1669.
Associated names:
Hoogstraten, Samuel van, 1627-1678.
Rembrandt Harmenszoon van Rijn, 1606-1669, School of, Formerly attributed to.
Warwick, George Guy Greville, Earl of, 1818-1893, former owner.
Murray, Charles Fairfax, 1849-1919, former owner.
Morgan, J. Pierpont (John Pierpont), 1837-1913, former owner.