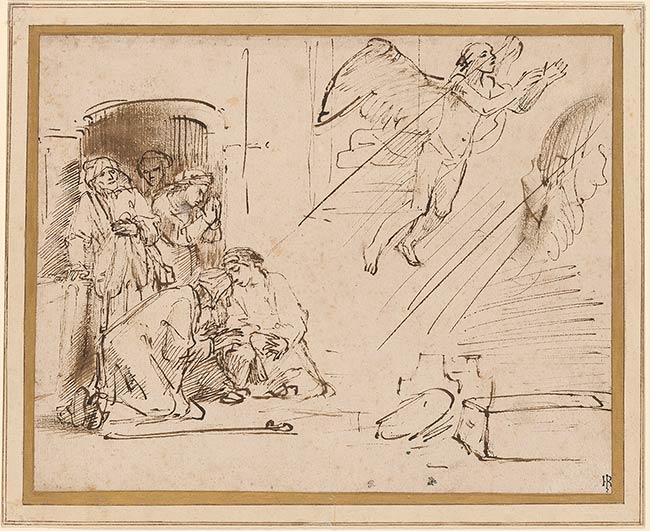 Attributed to Willem Drost
The Angel Departing from the Family of Tobit: "Apocrypha", Tobit 12:20-21
Pen and brown ink, rubbed with the finger in areas of the doorway and detail of angel's wing; small correction in opaque white in neck of Sara, on paper; traces of framing line in brown ink.
7 5/8 x 9 5/8 inches (193 x 245 mm)
Purchased by Pierpont Morgan (1837-1913) in 1909.
Inscription:
Inscribed on the verso of the old Richardson mount, at upper center (below Richardson's press marks), in an unknown hand (possibly that of Henry Reveley), in graphite, "The departure of the Angel from Abraham; / Purchased in 1783 at Mr. Forster's Sale"; and below this, also in graphite, "JC Robinson (signature)".
Provenance:
Jonathan Richardson, Sr. (1665-1745), London (Lugt 2184; remnants of his press marks on the verso of the mount, Tg 15 / Tk 6 / H; Lugt 2983-4); probably Ingham Forster (according to inscription on the verso); probably his sale, London, Barford, 24 February-4 March 1783, one of 126 lots (impossible to distinguish individual drawings from descriptions); Henry Reveley (1737-98), Bryn y Gwin, North Wales (Lugt 1356); Hugh Reveley (1772-1851?); Hugh John Reveley (1812-1889); his sale, London, Sotheby's, 21 April 1884, lot 154 (as Rembrandt): "The Departure of the Angel from Abraham" (to "Thibaudeau" for £4.4.0); Sir John Charles Robinson (1824-1913), London and Edinburgh (no mark; see Lugt 1433); Charles Fairfax Murray (1849-1919), London and Florence; from whom purchased through Galerie Alexandre Imbert, Rome, in 1909 by Pierpont Morgan (1837-1913), New York (no mark; see Lugt 1509); his son, J. P. Morgan, Jr. (1867-1943), New York.
Bibliography:
Collection J. Pierpont Morgan : Drawings by the Old Masters Formed by C. Fairfax Murray. London : Privately printed, 1905-1912, I, 197, repr. (as Rembrandt).
Stampfle, Felice and Egbert Haverkamp-Begemann. Rembrandt Drawings from American Collections. Cambridge, MA: Fogg Art Museum; New York: Pierpont Morgan Library, 1960, no. 70, repr.
Jane Shoaf Turner, with contributions by Felice Stampfle, Dutch Drawings in the Pierpont Morgan Library: Seventeenth to Nineteenth Centuries, New York, 2006, cat. no. 62.
Notes:
Watermark: none visible through lining with fiber optic light.
Associated names:
Rembrandt Harmenszoon van Rijn, 1606-1669, Formerly attributed to.
Richardson, Jonathan, 1665-1745, former owner.
Forster, Ingham, former owner.
Reveley, Henry, 1737-1798, former owner.
Reveley, Hugh, 1772-1851? former owner
Reveley, Hugh John, 1812-1889, former owner.
Robinson, J. C. (John Charles), Sir, 1824-1913, former owner.
Murray, Charles Fairfax, 1849-1919, former owner.
Morgan, J. Pierpont (John Pierpont), 1837-1913, former owner.