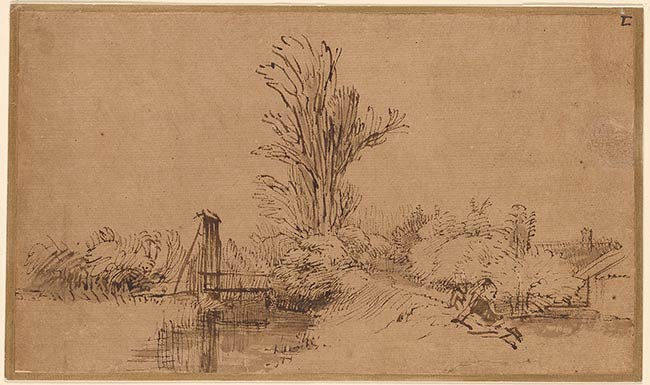 Rembrandt Harmenszoon van Rijn
Canal and Bridge Beside a Tall Tree with a Couple Seated on the Embankment
Pen and brown ink and black ink wash, on laid paper .
5 9/16 x 9 9/16 inches (141 x 243 mm); Mount: 5 13/16 x 9 13/16 inches (147 x 250)
Purchased by Pierpont Morgan (1837-1913) in 1909.
Inscription:
Inscribed at upper right, probably in the hand of Dr. Johannes Furnerius, in brown ink, "[".
Provenance:
Probably Dr. Johannes Furnerius, Rotterdam (Lugt 2942-44); Heneage Finch, 5th Earl of Aylesford (1786-1859), London and Packington Hall, Meriden, near Coventry, Warwickshire (according to Fairfax Murray; no mark; see Lugt 58); his sale, London, Christie's, 17-18 July 1893, lot 260: "A Landscape with a slight bridge over a dyke" (to Salting for £12.10.0); George Salting (1835-1909), London (no mark; see Lugt 2260-61); Charles Fairfax Murray (1849-1919), London and Florence; from whom purchased through Galerie Alexandre Imbert, Rome, in 1909 by Pierpont Morgan (1837-1913), New York (no mark; see Lugt 1509); his son, J. P. Morgan, Jr. (1867-1943), New York.
Bibliography:
Collection J. Pierpont Morgan : Drawings by the Old Masters Formed by C. Fairfax Murray. London : Privately printed, 1905-1912, I, 202, repr.
Stampfle, Felice and Egbert Haverkamp-Begemann. Rembrandt Drawings from American Collections. Cambridge, MA: Fogg Art Museum; New York: Pierpont Morgan Library, 1960, no. 54, repr.
Stampfle, Felice. Rubens and Rembrandt in Their Century: Flemish and Dutch Drawings of the Seventeenth Century from The Pierpont Morgan Library. New York : Pierpont Morgan Library, 1979, no. 74, repr.
Denison, Cara D., and Helen B. Mules, with the assistance of Jane V. Shoaf. European Drawings, 1375-1825. New York : Pierpont Morgan Library, 1981, no. 77, repr.
Jane Shoaf Turner, with contributions by Felice Stampfle, Dutch Drawings in the Pierpont Morgan Library: Seventeenth to Nineteenth Centuries, New York, 2006, cat. no. 220.
Notes:
Watermark: none visible through lining with fiber optic light.
Formerly attributed to Philips Koninck, 1619-1688.
Associated names:
Koninck, Philips, 1619-1688, Formerly attributed to.
Furnerius, Johannes, Dr., former owner.
Aylesford, Heneage Finch, Earl of, 1786-1859, former owner.
Salting, George, 1835-1909, former owner.
Murray, Charles Fairfax, 1849-1919, former owner.
Morgan, J. Pierpont (John Pierpont), 1837-1913, former owner.