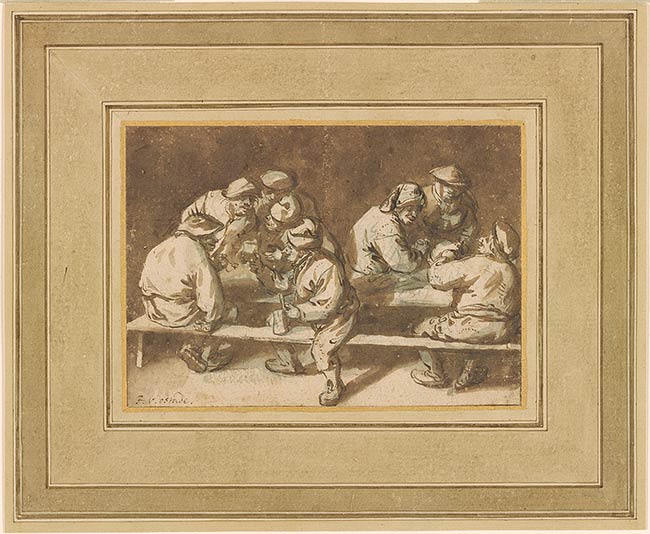 Pen and brown ink, brown and some gray washes, over black chalk, on paper.
4 1/4 x 5 15/16 inches (107 x 150 mm)
Purchased by Pierpont Morgan (1837-1913) in 1909.
Inscription:
Signed at lower left, in brown ink, "I. v. Ostade". Inscribed on the verso of the lining, at center, in brown ink, "P. N ̊59"; below that, in the hand of J.C. Robinson, in black ink, "Adrian van Ostade / from Lord Palmerston's Colln"; and numbered below, in graphite, "10 / 2".
Provenance:
Henry Temple, 2nd Viscount Palmerston (1739-1802), Broadlands, near Romsey, Hampshire, and London; his son, Henry John Temple, 3rd Viscount Palmerston (1784-1865), Broadlands and London; his widow, Mary (née Clavering), Lady Palmerston (d. 1869), Broadlands; her grandson, the Rt. Hon. Evelyn Ashley (1836-1908), Broadlands; possibly his sale, London, Christie's, 24 April 1891, one of two in lot 126: "A. Ostade. A Party of Boors Drinking-pen washed; another of a Man and a Woman"; Sir John Charles Robinson (1824-1913), Edinburgh and London (Lugt 1433); his sale ["Well-Known Amateur"], London, Christie's, 12-14 May 1902, lot 246: "Ostade (Isaac van). Party of Eight Boors, at a table in pen and bistre. From Lord Palmerston's Collection"; Charles Fairfax Murray (1849-1919), London and Florence; from whom purchased through Galerie Alexandre Imbert, Rome, in 1909 by Pierpont Morgan (1837-1913), New York (no mark; see Lugt 1509); his son, J. P. Morgan, Jr. (1867-1943), New York.
Bibliography:
Collection J. Pierpont Morgan : Drawings by the Old Masters Formed by C. Fairfax Murray. London : Privately printed, 1905-1912, I, no. 136, repr.
Stampfle, Felice. Rubens and Rembrandt in Their Century : Flemish and Dutch Drawings of the Seventeenth Century from The Pierpont Morgan Library. New York : Pierpont Morgan Library, 1979, no. 108, repr.
Jane Shoaf Turner, with contributions by Felice Stampfle, Dutch Drawings in the Pierpont Morgan Library: Seventeenth to Nineteenth Centuries, New York, 2006, cat. no. 197.
Notes:
Watermark: none visible through lining.
Formerly attributed to Adriaen van Ostade.
Associated names:
Ostade, Adriaen van, 1610-1685, Formerly attributed to.
Palmerston, Henry Temple, Viscount, 1739-1802, former owner.
Palmerston, Henry John Temple, Viscount, 1784-1865, former owner.
Palmerston, Emily Lamb, Viscountess, 1787-1869, former owner.
Ashley, Evelyn, 1836-1907, former owner.
Robinson, J. C. (John Charles), Sir, 1824-1913, former owner.
Murray, Charles Fairfax, 1849-1919, former owner.
Morgan, J. Pierpont (John Pierpont), 1837-1913, former owner.