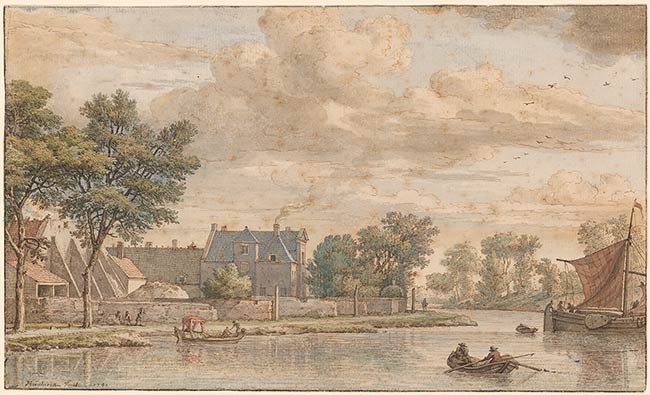 View of Cromwijck, a Country House on the River Vecht, Province of Utrecht
Pen and brown ink, watercolor and opaque watercolor, on paper; framing line in brown ink.
6 9/16 x 11 inches (167 x 280 mm)
Purchased by Pierpont Morgan (1837-1913) in 1909.
Inscription:
Signed and dated at lower left, in brown ink, "IM(in ligature)oucheron Fecit. 1741". Inscribed on the verso, in graphite, in lower left corner, "No.[o in superscript] 1147"; and to the right of this, in another hand, "JH(in ligature)r".
Watermark: Fleur-de-lis in a shield, surmounted by a crown, above 4 and letters "LVG", (Strasbourg lily),(similar to Heawood, no. 1829: Holland, 1743).
Provenance:
Probably Cornelis Bouman, Amsterdam; his sale, Amsterdam, de Leth, 18-20 August 1744; R. Fisher; Charles Fairfax Murray (1849-1919), London and Florence; from whom purchased through Galerie Alexandre Imbert, Rome, in 1909 by Pierpont Morgan (1837-1913), New York (no mark; see Lugt 1509); his son, J.P. Morgan, Jr. (1867-1943), New York.
Bibliography:
Collection J. Pierpont Morgan : Drawings by the Old Masters Formed by C. Fairfax Murray. London : Privately printed, 1905-1912, III, no. 237, repr.
Jane Shoaf Turner, with contributions by Felice Stampfle, Dutch Drawings in the Pierpont Morgan Library: Seventeenth to Nineteenth Centuries, New York, 2006, cat. no. 401.
Notes:
There is a preparatory drawing for the sheet in the collection of J.N. Bastert, Loenen aan der Vecht, as well as a probable companion sheet, formerly in the collection of Mr. C.P. van Eeghen, The Hague, which represents another house on the Vecht, Spaar-en-hout.
Associated names:
Bouman, Cornelis, former owner.
Fisher, R., former owner.
Murray, Charles Fairfax, 1849-1919, former owner.
Morgan, J. Pierpont (John Pierpont), 1837-1913, former owner.