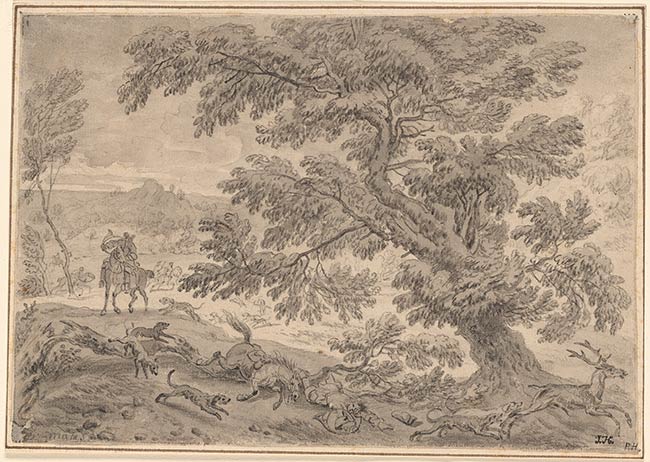 Stag Hunt with a Fallen Rider
Black chalk and gray wash, with a few accents in pen and black ink, on paper; traces of a framing line in black chalk; laid down on an old mount with framing line in brown ink.
5 7/16 x 7 15/16 inches (138 x 202 mm)
Purchased by Pierpont Morgan (1837-1913) in 1909.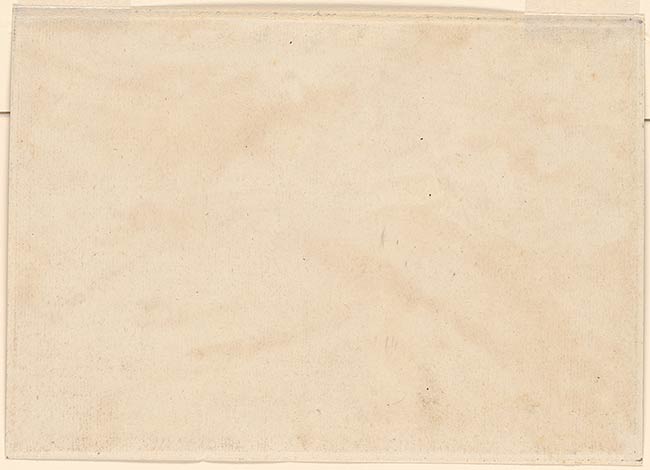 Inscription:
Signed at lower left, in black chalk, "D: Maas".
Provenance:
Thomas Hudson (1701-99), London (Lugt 2432); possibly his sale, London, Langford, 15-26 March 1779, one of six in lot 49: "Six by D. Maas, Neyts, etc."; P.H. (Lugt 2084); possibly Samuel Woodburn (1786-1853), London (no mark; see Lugt 2584); possibly his sale, London, Christie's, 16-27 June 1854, lot 1187: "A landscape with a stag hunt, etc. (2)" (to "Pearce" for £0.1.0); probably Dr. Edward Riggall, London; his sale, London, Sotheby's, 6-8 June 1901, lot 518: "D. Maas. Landscapes with figures, signed; others by N. Maas; etc. (7)" (to Fairfax Murray for £5.5.0); Charles Fairfax Murray (1849-1919), London and Florence; from whom purchased through Galerie Alexandre Imbert, Rome, in 1909 by Pierpont Morgan (1837-1913), New York (no mark; see Lugt 1509); his son, J. P. Morgan, Jr. (1867-1943), New York.
Associated names:
Hudson, Thomas, 1701-1779, former owner.
Woodburn, Samuel, 1785 or 1786-1853 former owner.
Rigall, Edward, Dr., former owner.
Murray, Charles Fairfax, 1849-1919, former owner.
Morgan, John Pierpont, 1837-1913, former owner.