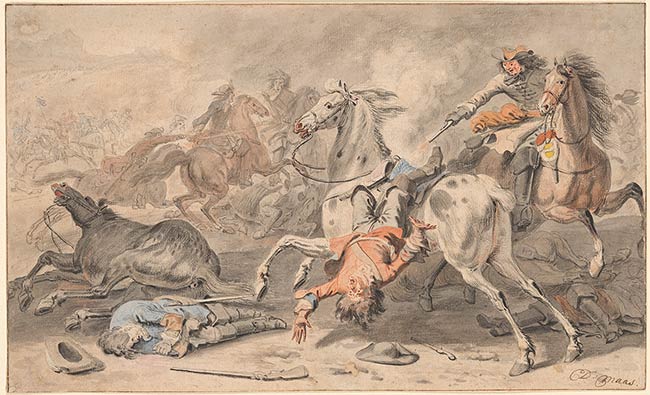 Black and red chalk, watercolor in gray, brown, blue, orange, yellow and green, on paper; framing line in brown ink.
7 1/16 x 11 9/16 inches (179 x 294 mm)
Purchased as the gift of Jack Rudin.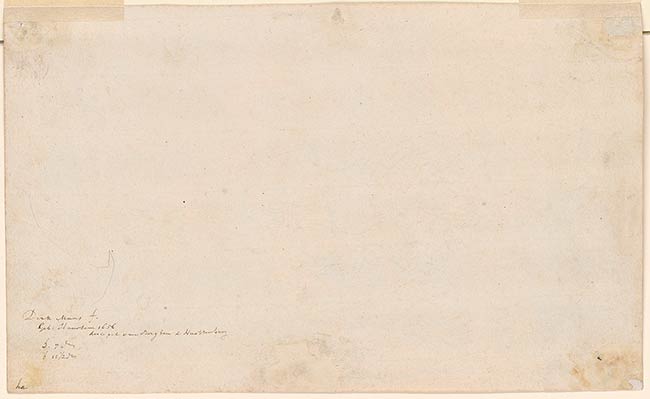 Inscription:
Signed at lower right, in brown ink, "D: Maas". Inscribed on the verso, in brown ink: at lower left, by Ploos van Amstel, "Dirk Maas f. / Geb: Haarlem 1656 / discipel van Berghem e Huchtenburg / h. 7d / b. 11 1/2 d"; and in lower left corner, "ha".
Watermark: Fleur-de-lis within a shield, surmounted by a crown, over 4 and letters "WR" and cursive "AJ", (Strasbourg lily), (Heawood, no. 1786: Holland?, c. 1690).
Provenance:
Cornelis Ploos van Amstel Jb Czn (1726-1798), Amsterdam; possibly his sale, Amsterdam, van der Schley...Roos, 3ff. March 1800, possibly Album K, lot 36: "Een Schermutseling van Ruitery; met Sapjes, door D. Maas" (to "Schley" [i.e. bought in] for 7 fl.); acquired from Peter Rowlands, London.
Bibliography:
Ryskamp, Charles, ed. Twentieth Report to the Fellows of the Pierpont Morgan Library, 1981-1983. New York : Pierpont Morgan Library, 1984, p. 273-274.
Associated names:
Rowlands, Peter, former owner.
Ploos van Amstel, Cornelis, 1726-1798, former owner.
Rudin, Jack, donor.