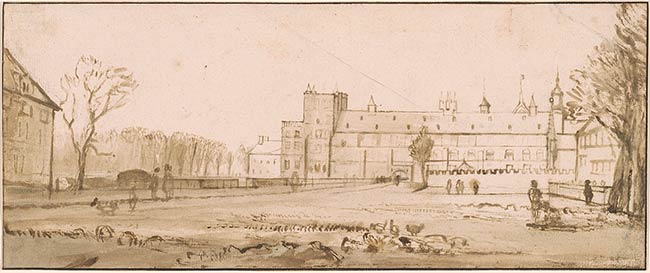 Pen and brown ink and wash, on paper; framing line in dark brown ink.
4 11/16 x 11 1/4 inches (119 x 285 mm)
Purchased by Pierpont Morgan (1837-1913) in 1909.
Inscription:
Inscribed variously on the verso, at lower center, in a contemporary hand, perhaps that of the artist, in brown ink, "den 7 marty 1660"; at lower left, in graphite, "A.S.[?] / 7"; signed to the right of this, in black ink, "J.C. Robinson"; underneath this, in graphite, "Het Hof te 'S Gravenhage"; and below that, in another hand, in graphite, "273".
Watermark: Countermark: Letters "PG". Letter "P" attached to left chain line and to base and top of G.
Provenance:
Anonymous sale, Amsterdam, de Winter & IJver, 20-28 January 1772, lot 555: "Gezigt van 't Buitenhof in 's Hage, met Roed gewassen, door Koning, in de manier van Rembrand" (with lot 556 to Busserus for 0.10.0 fl.); Hendrik Busserus (1701-1781), Amsterdam; his sale, Amsterdam, van der Schley ... Maarszen, 21ff. October 1782, Album II, lot 686: "Gezigt van het Buitenhof in 's Hage, met Roet geteekent, door Rembrandt"; Cornelis Ploos van Amstel Jb Czn (1726-98), Amsterdam (no mark; see Lugt 2034); his sale, Amsterdam, van der Schley ... Roos, 3ff. March 1800, Album G, lot 25; Abraham Jacob Saportas (1777-1836), Amsterdam; his sale, Amsterdam, de Vries ... Roos, 14 May 1832, Album A, lot 37; Gérard Leembruggen Jzn (1801-1865), The Hague, Lisse and Hillegom; his sale, Amsterdam, Roos ... Lamme, 5-8 March 1866, lot 335 (as Philip de Koningh): "La résidence des Princes d'Orange à la Haye: à la plume et au bistre. Coll. Muller." (to de Vos for 21 fl.); Jacob de Vos Jbzn (1803-1878), Amsterdam (Lugt 1450); his sale, Amsterdam, Roos ... Muller, 22-4 May 1883, lot 273 (as Philippe de Koning): "Vue de la cour extérieur ('Buitenhof') à la Haye. Dessin remarkable nous conservant quelques particularités des édifices de la Cour Intérieur [sic], que nous n'avons pas rencontrées ailleurs. Au revers, la date du dessin: Den 7 Martii 1660" (to "Thibaudeau" for 170 fl.); Sir Francis Seymour Haden (1818-1910), London and Arlesford (Lugt 1227); his sale, London, Sotheby's, 15-19 June 1891, lot 563 (as Ph. de Koning): "View of the 'Buitenhof' at The Hague, bistre washed, dated at the back, 17 [sic] March 1660. From the De Vos collection" (to Robinson for £6.0.0); Sir John Charles Robinson (1824-1913), Edinburgh and London (his signature on the verso; see Lugt 1433); Charles Fairfax Murray (1849-1919), London and Florence; from whom purchased through Galerie Alexandre Imbert, Rome, in 1909 by Pierpont Morgan (1837-1913), New York (no mark; see Lugt 1509); his son, J. P. Morgan, Jr. (1867-1943), New York.
Bibliography:
Collection J. Pierpont Morgan : Drawings by the Old Masters Formed by C. Fairfax Murray. London : Privately printed, 1905-1912, I, 210, repr. (as Jakob Koninck)
Stampfle, Felice. Rubens and Rembrandt in Their Century : Flemish and Dutch Drawings of the Seventeenth Century from The Pierpont Morgan Library. New York : Pierpont Morgan Library, 1979, no. 98, repr., (as Philips Koninck).
Denison, Cara D., and Helen B. Mules, with the assistance of Jane V. Shoaf. European Drawings, 1375-1825. New York : Pierpont Morgan Library, 1981, 81, repr.
Jane Shoaf Turner, with contributions by Felice Stampfle, Dutch Drawings in the Pierpont Morgan Library: Seventeenth to Nineteenth Centuries, New York, 2006, cat. no. 122.
Associated names:
Rembrandt Harmenszoon van Rijn, 1606-1669, Formerly attributed to.
Busserus, Hendrik, 1701-1781, former owner.
Ploos van Amstel, Cornelis, 1726-1798, former owner.
Saportas, Abraham Jacob, 1777-1836, former owner.
Leembruggen, Gérard, 1801-1865, former owner.
Vos Jacobszoon, Jacob de, 1803-1878, former owner.
Haden, Francis Seymour, 1818-1910, former owner.
Robinson, J. C. (John Charles), Sir, 1824-1913, former owner.
Murray, Charles Fairfax, 1849-1919, former owner.
Morgan, John Pierpont, 1837-1913, former owner.