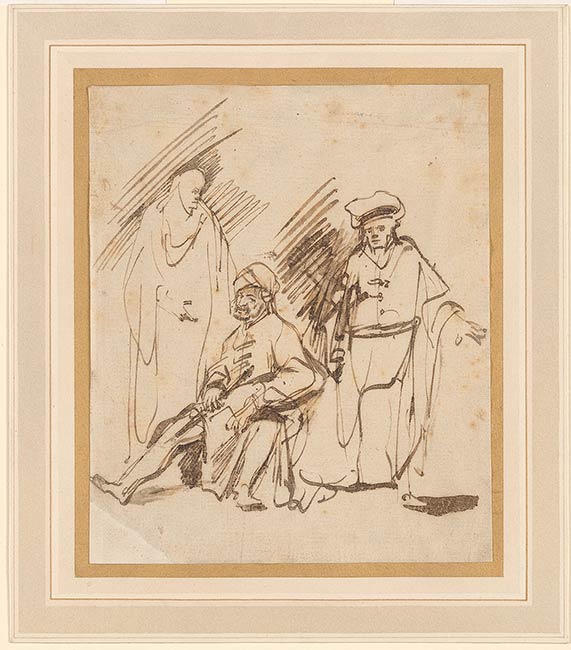 Seated Man in a Turban, Flanked by Two Standing Figures
Reed and quill pen and brown ink, and black ink wash on laid paper; some pale black wash in face of seated figure.
7 13/16 x 6 5/8 inches (199 x 168 mm)
Purchased by Pierpont Morgan (1837-1913) in 1909.
Inscription:
Inscribed on the verso, at lower center, in graphite, "8". Inscribed on that part of the old mount underneath drawing, with Knapton code, in light brown ink: at upper center, "W 38"; at upper left corner, "45S"; and at upper right corner, "6N / L16"; and also at upper center, in graphite, "Philip de Koning".
Watermark: Grapes (similar to Heawood, no. 2103: Amsterdam, 1646). Centered between chain lines, hollow stem.
Provenance:
George Knapton (1698-1778), London; bequeathed by him to General George Morrison (1704?-1799), London; Knapton-Morrison sale, London, T. Philipe, 25 May-3 June 1807, one of two by Koninck (with I, 213) in lot 458 (to Miss Georgina Morrison for £1.50.0); Georgina Morrison; Sir Joseph Hawley; sale, M. de Salicis ... and property of a Baronet [Sir Henry Hawley (1745-1825)], London, Christie's, 16 July 1891, probably one of two in lot 200 (to Fairfax Murray for £3.5.0); Charles Fairfax Murray (1849-1919), London and Florence; from whom purchased through Galerie Alexandre Imbert, Rome, in 1909 by Pierpont Morgan (1837-1913), New York (no mark; see Lugt 1509); his son, J. P. Morgan, Jr. (1867-1943), New York.
Bibliography:
Collection J. Pierpont Morgan : Drawings by the Old Masters Formed by C. Fairfax Murray. London : Privately printed, 1905-1912, I, 212, repr.
Stampfle, Felice. Rubens and Rembrandt in Their Century : Flemish and Dutch Drawings of the Seventeenth Century from The Pierpont Morgan Library. New York : Pierpont Morgan Library, 1979, 62.
Associated names:
Knapton, George, 1698-1778, former owner.
Morrison, George, 1704?-1799, former owner.
Morrison, Georgina, former owner.
Hawley, Joseph Henry, Sir, 1813-1875, former owner.
Hawley, Henry, Sir, 1745-1825, former owner.
Murray, Charles Fairfax, 1849-1919, former owner.
Morgan, John Pierpont, 1837-1913, former owner.