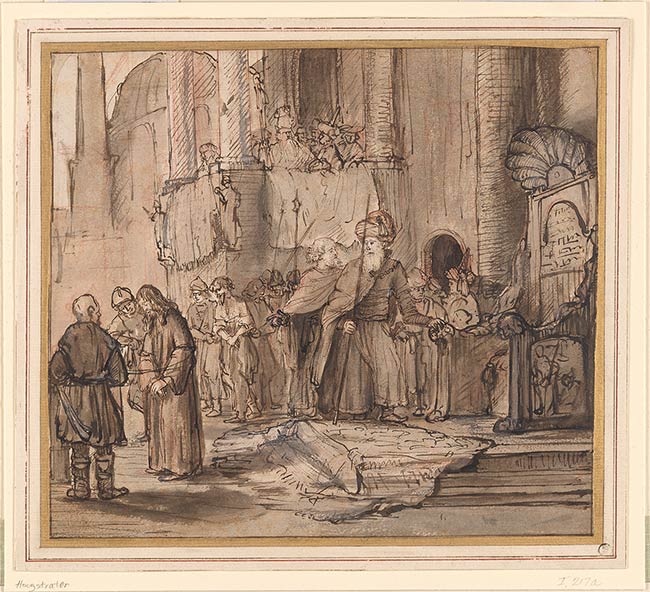 Attributed to Abraham van Dyck
Christ Being Led away from the Presence of Pilate: Matthew 27:11-26; Mark 15:2-15; Luke 23:13-25; John 18:28-40
Pen and brown ink, brown and gray-brown wash (mixed in some areas with opaque white), over red chalk, on paper; framing line in brown ink.
7 1/4 x 8 1/8 inches (185 x 207 mm)
Purchased by Pierpont Morgan (1837-1913) in 1909.
Provenance:
Heneage Finch, 5th Earl of Aylesford (1786-1859), London and Packington Hall, Meriden, near Coventry, Warwickshire (Lugt 58); his sale, London, Christie's, 17-18 July 1893, lot 264 (as Rembrandt): "Christ Being Led Away-a highly finished drawing in sepia and chalk" (to Fairfax Murray for £2.2.0); Charles Fairfax Murray (1849-1919), London and Florence; from whom purchased through Galerie Alexandre Imbert, Rome, in 1909 by Pierpont Morgan (1837-1913), New York (no mark; see Lugt 1509); his son, J. P. Morgan, Jr. (1867-1943), New York.
Bibliography:
Jane Shoaf Turner, with contributions by Felice Stampfle, Dutch Drawings in the Pierpont Morgan Library: Seventeenth to Nineteenth Centuries, New York, 2006, cat. no. 72.
Notes:
Watermark: foolscap, fragment with seven points (visible through lining with fiber optic light).
On same mat with I, 216.
Associated names:
Rembrandt Harmenszoon van Rijn, 1606-1669, Formerly attributed to.
Eeckhout, Gerbrand van den, 1621-1674, Formerly attributed to.
Hoogstraten, Samuel van, 1627-1678, Formerly attributed to.
Aylesford, Heneage Finch, Earl of, 1786-1859, former owner.
Murray, Charles Fairfax, 1849-1919, former owner.
Morgan, John Pierpont, 1837-1913, former owner.