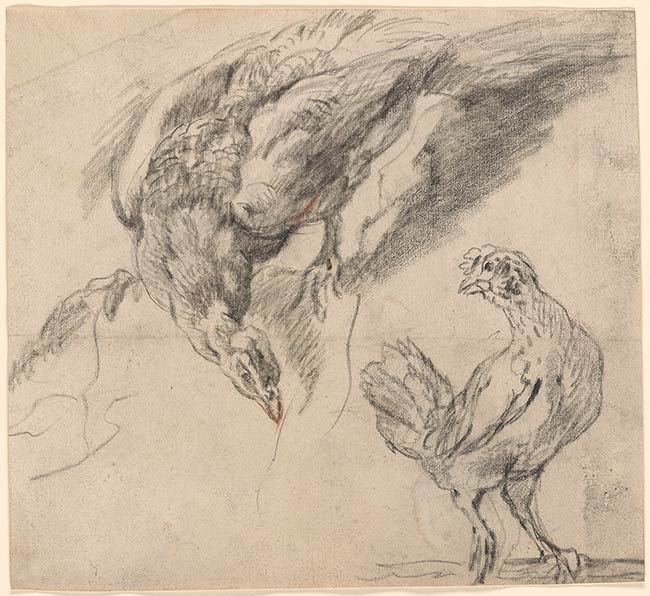 Black chalk, with two touches of red chalk, on paper.
7 7/8 x 8 9/16 inches (200 x 218 mm)
Purchased by Pierpont Morgan (1837-1913) in 1909.
Provenance:
Probably the Hon. Ashley Ponsonby; his sale, London, Christie's, 7-9 February 1898, one of two (with Cat. no. I, 219) in lot 548 (to Fairfax Murray for Đ0-6-0); Charles Fairfax Murray (1849-1919), London and Florence; from whom purchased through Galerie Alexandre Imbert, Rome, in 1909 by Pierpont Morgan (1837-1913), New York (no mark; see Lugt 1509); his son, J. P. Morgan, Jr. (1867-1943), New York.
Bibliography:
Collection J. Pierpont Morgan : Drawings by the Old Masters Formed by C. Fairfax Murray. London : Privately printed, 1905-1912, I, 154, repr. (as Melchior d'Hondecoeter)
Notes:
Watermark: coat of arms with fleur-de-lis and sun; countermark with letters "CD" (similar to Heawood, nos. 649-50: Paris, c. 1640-50).
Associated names:
Hondecoeter, Melchior de, 1636-1695, Formerly attributed to.
Ponsonby, Ashley, former owner.
Murray, Charles Fairfax, 1849-1919, former owner.
Morgan, John Pierpont, 1837-1913, former owner.