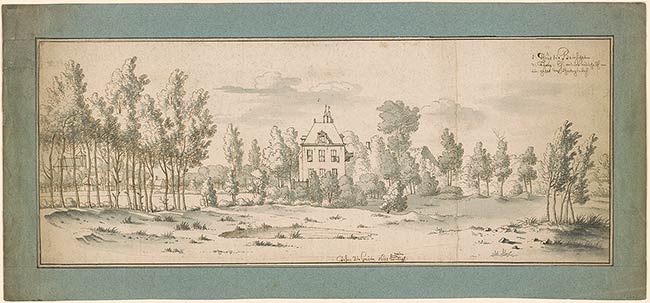 Pen and brown ink, gray wash, over black chalk, on two pieces of paper pasted together at right quarter.
6 7/8 x 17 7/16 inches (174 x 443 mm)
Gift of William S. Glazier.
Inscription:
Signed, dated, and inscribed by the artist, at lower center, in brown ink, "Josúa de Grave: 1681 11maent ["11 maent" in superscript]/20-dagh ["20 dagh" in subscript below "11 maent"]" [20 November]; at upper right, "1: Thuÿs te Baerschot / 2: Dorp: Es: omtrent anderhalf- / úúr: gaens van: s'hartogenbos:". Numbered by the artist, at the center, above the house, "1"; and at the left, above the village church, "2". Inscribed on the verso of the mount, at upper center, in black chalk, "B.P.(?)C".
Drawing: Watermark: Arms of Amsterdam (similar to Heawood, no. 434: Holland, ca. 1685), fragment, rampant lions, three stacked 'X's; illegible countermark.
Old mount: Watermark: Letters "B (star) C (star)" inside a rectangle, above a crescent, on old mount.
Provenance:
Acquired from Walter Schatzki, New York.
Bibliography:
Pierpont Morgan Library. Review of Acquisitions, 1949-1968. New York : Pierpont Morgan Library, 1969, p. 148.
Adams, Frederick B., Jr., comp. Twelfth Report to the Fellows of the Pierpont Morgan Library, 1962. New York : Pierpont Morgan Library, 1963, p. 81.
Jane Shoaf Turner, with contributions by Felice Stampfle, Dutch Drawings in the Pierpont Morgan Library: Seventeenth to Nineteenth Centuries, New York, 2006, cat. no. 94.
Notes:
Ruled border in dark brown ink, and a matching one on the old blue mount.
Associated names:
Schatzki, Walter, 1899-1983, former owner.