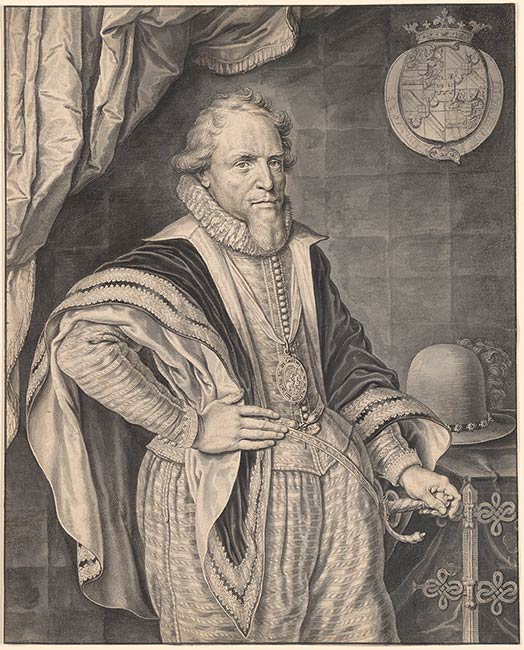 Portrait of Maurice, Prince of Orange, Count of Nassau, Stadholder of The Netherlands (1567-1625)
Brush and black wash, extraneous marks of opaque white, on laid paper; framing line in black ink.
15 7/8 x 12 7/8 inches (403 x 327 mm)
Purchased by Pierpont Morgan (1837-1913) in 1909.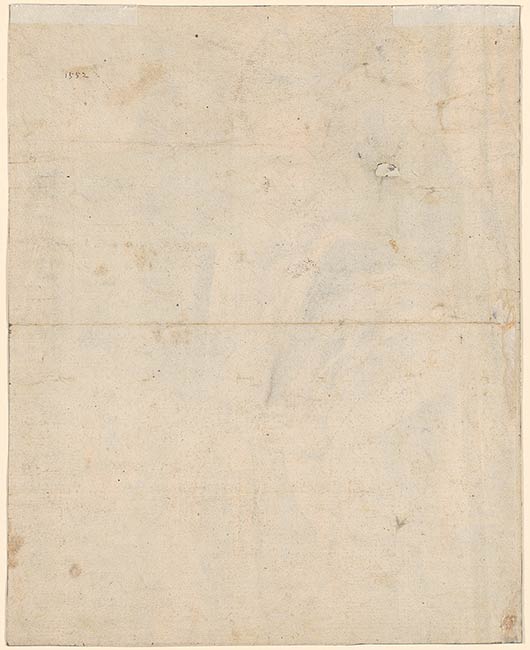 Inscription:
Signed by the artist on the Orange-Nassau coat of arms at upper right, in point of brush, "IDGeyn fecit Anno 1623". Numbered on verso, in graphite, "1552". Inscribed on old mount, at lower edge, in an old hand, in black ink, "Portret van Prins Maúrits van Nassaú/ Door Delsius: del."; at lower edge, in another hand, in graphite, "No ["o" in superscript] 16. Delph". Pasted on the verso of same old mount are two clippings from old sale catalogues: (1) "een uitmuntend fraai met O.I. Inkt geteekend Portrait van Maurits Prince van Orange Nassau in Vorstelijk gewaad met ongedekt hoofd bij een Tafel staande waarop een hoed met een vederbos "door P. Delft"; (2) "MAURICE DE NASSAU (Le Prince) Description et Representation de toutes ses Victoires tant par eau que par terre, with portrait and numerous views, maps, and plans of battles and sieges, folio, fine copy, russia extra, gilt and marbled edges, from Heber's library, RARE, £ 1.4 Leyden, 1612". Numbered above first clipping, in graphite, "2108"; at upper right corner, "21 Wo". Inscribed on verso of old mount, in graphite, at upper center, "N. 176"; at lower left, No. ["o" in superscript] 159. Delft / (Woodburn's Sale June 1854.)"; at lower right, in another hand, "Portrait of Prince Mauritz of Nassau"; below, in hand of Van Regteren Altena, "(is it from Mirevelt's picture which Delft engraved?)".
Provenance:
Sir Thomas Lawrence (no mark; see Lugt 2445); Samuel Woodburn (no mark; see Lugt 2584); his sale, Christie's, 16-27 June 1854, lot 159 ("Delph, Portrait of Prince Mauritz of Nassau. Highly finished, in Indian ink"; to Peace for £0.13.0); sale ("Property of Various Owners...Mrs. Mary Peace, Sir Richard Westmacott and Others"), Sotheby's, 17-19 July 1899, one of twenty-one in lot 260 (works by Delff, Wynen, Weirotter, Brill, and others; to Fairfax Murray for £5.10.0); Charles Fairfax Murray (1849-1919), London and Florence; from whom purchased through Galerie Alexandre Imbert, Rome, in 1909 by Pierpont Morgan (1837-1913), New York (no mark; see Lugt 1509); his son, J. P. Morgan, Jr. (1867-1943), New York.
Bibliography:
Collection J. Pierpont Morgan : Drawings by the Old Masters Formed by C. Fairfax Murray. London : Privately printed, 1905-1912, I, 113.
Stampfle, Felice, with the assistance of Ruth S. Kraemer and Jane Shoaf Turner. Netherlandish Drawings of the Fifteenth and Sixteenth Centuries and Flemish Drawings of the Seventeenth and Eighteenth Centuries in the Pierpont Morgan Library. New York : Pierpont Morgan Library, 1991, pp. 37-39, no. 64.
Notes:
Watermark: Indecipherble fragment, drawing is lined.
Associated names:
Delff, Willem Jacobsz., 1580-1638, Formerly attributed to.
Lawrence, Thomas, Sir, 1769-1830, former owner.
Woodburn, Samuel, 1785 or 1786-1853 former owner.
Murray, Charles Fairfax, 1849-1919, former owner.
Morgan, J. Pierpont (John Pierpont), 1837-1913, former owner.