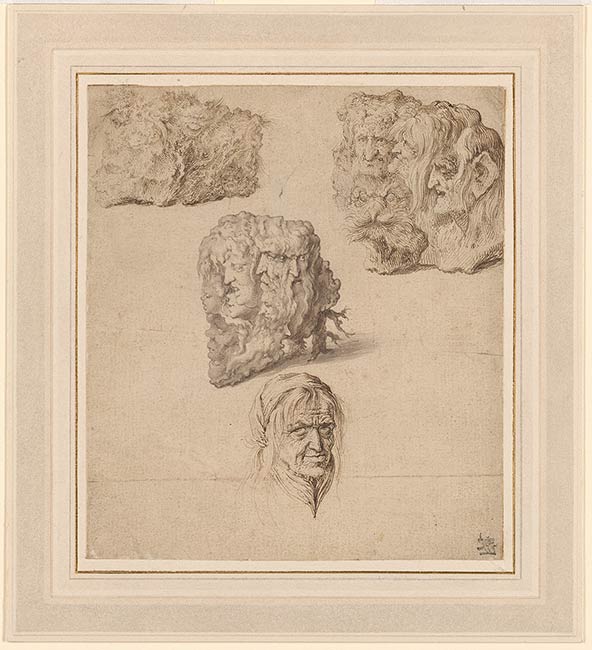 Three Clusters of Grotesque Heads; Head of an Old Woman
Pen and brown ink, gray-brown wash over black chalk, on laid paper.
7 5/8 x 6 11/16 inches (193 x 169 mm)
Purchased by Pierpont Morgan (1837-1913) in 1909.
Provenance:
Sale, Marten ten Hove (1683-1759) and Jean François Tourton (1688-1751), Amsterdam, Hendrick de Winter & Jan Yver, 8 April 1760, Album C, no. 58 ("Twee Stuks met vreemde Hoofden, door de Gyn"); Samuel Woodburn, London (cf. Lugt 2584); his sale, London, Christie's, 16-25 June 1854, one of three in lot 688 [689]("J. de Gheyn. Grotesque Heads; and a portrait"; to Evans for 16 gns.); William Mayor (Lugt 2799); W. N. Lantsheer, The Hague; his sale (W.N. Lantsheer and Jeronimo de Vries), Amsterdam, Frederik Muller & Co., 3-4 June 1884, lot 104 (to Muller for Fl.26); Charles Fairfax Murray (1849-1919), London and Florence; from whom purchased through Galerie Alexandre Imbert, Rome, in 1909 by Pierpont Morgan (1837-1913), New York (no mark; see Lugt 1509); his son, J. P. Morgan, Jr. (1867-1943), New York.
Bibliography:
Collection J. Pierpont Morgan : Drawings by the Old Masters Formed by C. Fairfax Murray. London : Privately printed, 1905-1912, I, 158.
Stampfle, Felice. Rubens and Rembrandt in Their Century : Flemish and Dutch Drawings of the Seventeenth Century from The Pierpont Morgan Library. New York : Pierpont Morgan Library, 1979, no. 60, repr.
Stampfle, Felice, with the assistance of Ruth S. Kraemer and Jane Shoaf Turner. Netherlandish Drawings of the Fifteenth and Sixteenth Centuries and Flemish Drawings of the Seventeenth and Eighteenth Centuries in the Pierpont Morgan Library. New York : Pierpont Morgan Library, 1991, p. 37, no. 63.
Notes:
Watermark: fragment of a fleur-de-lis within a shield (cf. Heawood 1768-69).
Toward the end of his life, de Gheyn made a series of drawings of grotesque heads, which were later turned into etchings by his son. The point of departure for the series seems to have been the head of an old woman in the lower half of this sheet. Her exaggerated features are echoed in the intricately drawn details of the ghoulish, rootlike clusters above. -- Exhibition Label, from "Life Lines: Portrait Drawings from Dürer to Picasso."
Associated names:
Hove, Marten ten, 1683-1759, former owner.
Tourton, Jean François, 1688-1751, former owner.
Woodburn, Samuel, 1785 or 1786-1853 former owner.
Mayor, William, 1826-1892, former owner.
Lantsheer, W. N., former owner.
Murray, Charles Fairfax, 1849-1919, former owner.
Morgan, J. Pierpont (John Pierpont), 1837-1913, former owner.