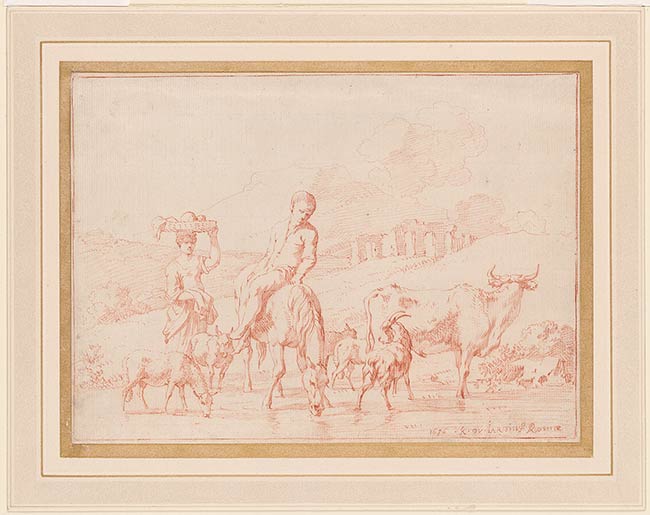 Boy on a Horse Drinking at a Stream, a Girl with a Flat Basket on her Head, a Cow, Goats, and Sheep
Red chalk on paper; framing line by the artist in red chalk.
7 1/2 x 10 5/16 inches (191 x 262 mm)
Purchased by Pierpont Morgan (1837-1913) in 1909.
Inscription:
Signed and dated at lower right, in red chalk, "1676·K·DV·IARDIN·f·Romae". Inscribed on the mount: at upper center, in graphite, "Burlington Fine Arts Club. Exh. 1883"; and at lower center, in Roupell's hand, in black ink, "R P R / Karl du Jardin / This drawing formed part of the Collection of / Sir Anthony Westcomb[sic] who is said in Walpoles / anecdotes to have been one of the Earliest English / Collectors. Temp Car 2. His Collection was bequeathed / by him to Bernard Granville the friend and patron of / Handel-and was preserved intact by that family / It was sold by order of the Executors in 1857 by Puttick / and Simpson. I purchased it at that sale / R P R".
Watermark: Anchor within a circle, surmounted by a six-pointed star, over the letter "F" (similar to Heawood, nos. 5-8: Rome, seventeenth century). Centered on one chain line, anchor has rounded top.
Provenance:
Sir Anthony Westcombe (d. 1752), Llanover (?; according to Roupell; no mark; see Lugt 202); his cousin, Bernard Granville, Llanover (?); his descendants; sale of a descendant, London, Puttick & Simpson, 22 December 1857, one of four in lot 39 (to Roupell for £1.15.0); Robert Prioleau Roupell (1798-1886), London (Lugt 2234); his sale, London, Christie's, 12-14 July 1887, lot 1004: "Peasants and Cattle in a Stream. Signed, and dated 1676. From the Collections of Sir A. Westcombe and B. Greusil [sic]. Exhibited at the Burlington Fine Arts Club." (to Salting for £5.5.0); George Salting (1835-1909), London (no mark; see Lugt 2260-61); Charles Fairfax Murray (1849-1919), London and Florence; from whom purchased through Galerie Alexandre Imbert, Rome, in 1909 by Pierpont Morgan (1837-1913), New York (no mark; see Lugt 1509); his son, J. P. Morgan, Jr. (1867-1943), New York.
Bibliography:
Jane Shoaf Turner, with contributions by Felice Stampfle, Dutch Drawings in the Pierpont Morgan Library: Seventeenth to Nineteenth Centuries, New York, 2006, cat. no. 66.
Notes:
The arrangement of figures and animals in the drawing and that of the related painting in the Galleria Sabauda, Turin are nearly identical, but in reverse.
Associated names:
Westcombe, Anthony, Sir, approximately 1680-1752, former owner.
Granville, Bernard, former owner.
Roupell, Robert Prioleau, 1798-1886, former owner.
Salting, George, 1835-1909, former owner.
Murray, Charles Fairfax, 1849-1919, former owner.
Morgan, J. Pierpont (John Pierpont), 1837-1913, former owner.