View of Hochelten from the South
Pen and brown ink, brown and blue-gray wash, with faint traces of opaque white, on ledger paper; framing line in brown ink.
9 1/8 x 16 1/8 inches (231x 410 mm)
Purchased by Pierpont Morgan (1837-1913) in 1909.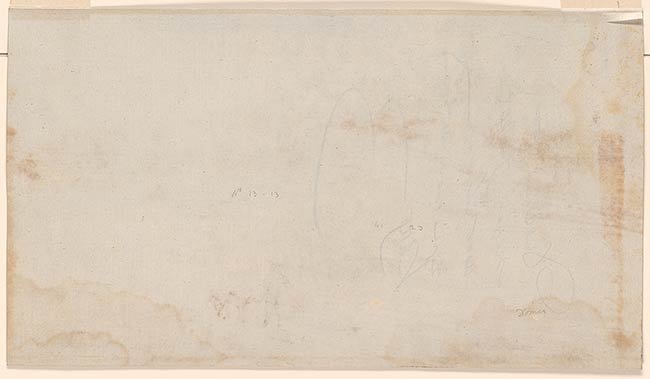 Inscription:
Although the drawing has been lined, it is still possible, with a fiber optic light, to decipher the inscription on the verso: inscribed at lower left, presumably by the artist, in ink, "de Abdiÿ op den Eltenen Bergh". Inscribed on the inside of the lining at right, in a large script, in graphite, "Deeze... / ne... / door... / zijn... / Katy...". On the lining, in graphite, at center, "No ["o" in superscript] 13-13"; in another hand, "41" and "23"; and at lower right, "Domer".
Provenance:
Jeronimus Tonneman (1688-1750), Amsterdam; his mother, Maria Tonneman (née van Breusegom; d. 1752), Amsterdam; her sale, Amsterdam, de Leth, 21 October 1754, Album T, lot 2 (to "Woordman" for 10 fl.); the Hon. Ashley Ponsonby, London; his sale, London, Christie's, 7-9 February 1898, one of two (with I, 154) in lot 548 (to Fairfax Murray for £0.6.0); Charles Fairfax Murray (1849-1919), London and Florence; from whom purchased through Galerie Alexandre Imbert, Rome, in 1909 by Pierpont Morgan (1837-1913), New York (no mark; see Lugt 1509); his son, J. P. Morgan, Jr. (1867-1943), New York.
Bibliography:
Collection J. Pierpont Morgan : Drawings by the Old Masters Formed by C. Fairfax Murray. London : Privately printed, 1905-1912, I, 219, repr.
Stampfle, Felice. Rubens and Rembrandt in Their Century : Flemish and Dutch Drawings of the Seventeenth Century from The Pierpont Morgan Library. New York : Pierpont Morgan Library, 1979, under no. 30, n. 11.
Jane Shoaf Turner, with contributions by Felice Stampfle, Dutch Drawings in the Pierpont Morgan Library: Seventeenth to Nineteenth Centuries, New York, 2006, cat. no. 60.
Associated names:
Tonneman, Jeronimus, 1688-1750, former owner.
Tonneman, Maria, d. 1752, former owner.
Ponsonby, Ashley, former owner.
Murray, Charles Fairfax, 1849-1919, former owner.
Morgan, J. Pierpont (John Pierpont), 1837-1913, former owner.