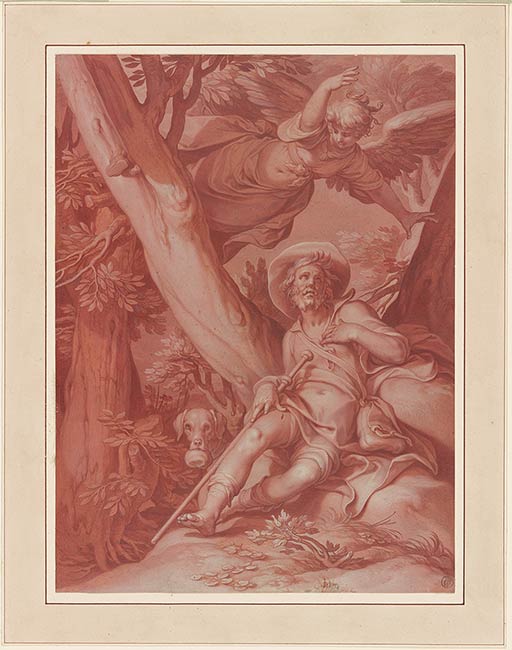 Opaque red (vermillion) and lead white paint, over black chalk, on laid paper.
11 3/8 x 8 1/2 inches (290 x 215 mm)
Purchased by Pierpont Morgan (1837-1913) in 1909.
Provenance:
Sir Charles Greville (1763-1836), English army officer (Lugt 549); George Guy, fourth Earl of Warwick (Lugt 2600); his sale, Christie's, 20-21 May 1896, one of two in lot 33; Charles Fairfax Murray (1849-1919), London and Florence; from whom purchased through Galerie Alexandre Imbert, Rome, in 1909 by Pierpont Morgan (1837-1913), New York (no mark; see Lugt 1509); his son, J. P. Morgan, Jr. (1867-1943), New York.
Bibliography:
Stampfle, Felice, with the assistance of Ruth S. Kraemer and Jane Shoaf Turner. Netherlandish Drawings of the Fifteenth and Sixteenth Centuries and Flemish Drawings of the Seventeenth and Eighteenth Centuries in the Pierpont Morgan Library. New York : Pierpont Morgan Library, 1991, p. 18, no. 30, repr.
From Leonardo to Pollock: Master drawings from the Morgan Library. New York: Morgan Library, 2006, cat. no. 34, p. 74-75.
100 Master drawings from the Morgan Library & Museum. München : Hirmer, 2008, no. 44, repr. [Jennifer Tonkovich]
Notes:
Watermark: partly visible through lining, horn inside crowned shield, over 4 and indecipherable letters. Watermark (infrared transmitted): hunting horn, shield, crown.
Associated names:
Greville, Charles, 1762-1832, former owner.
Warwick, George Guy Greville, Earl of, 1818-1893, former owner.
Murray, Charles Fairfax, 1849-1919, former owner.
Morgan, J. Pierpont (John Pierpont), 1837-1913, former owner.