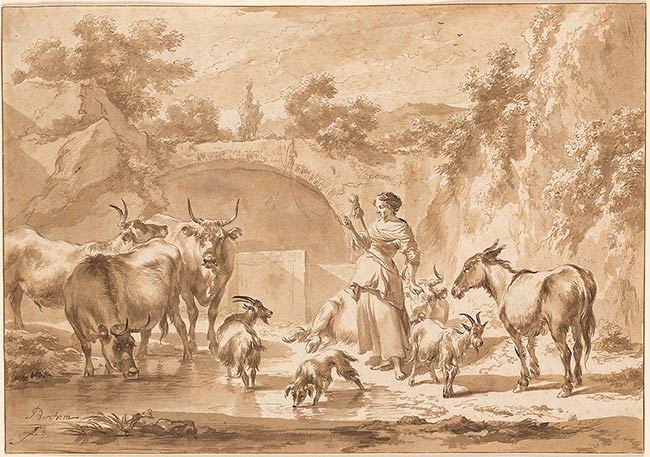 Nicolaas Pietersz Berchem
Shepherdess Spinning by a Stream, with Cattle, Goats, and a Donkey
Pen and brown ink and wash, over black chalk, on paper; framing line in brown ink.
9 3/4 x 13 15/16 inches (247 x 354 mm)
Purchased by Pierpont Morgan (1837-1913) in 1909.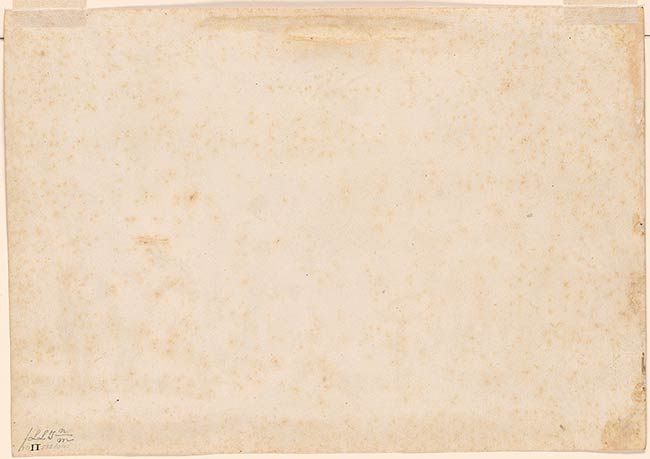 Inscription:
Signed at lower left, in brown ink, "Berchem / f.:". Inscribed on the verso, at lower left corner, in dark brown ink, "II"; above this, in graphite, "fLLJn/m ["n" in superscript; "m" in subscript]"; below this, in another hand, also in graphite [around the II], "voi SJS.loh". Apparently inscribed on the former old mount [no longer preserved], "Berchem(?) / 0-36".
Watermark: Countermark: Letters "CD". Letters between chain lines, touching at center of outer edge of "D".
Provenance:
Probably Sybrand II Feitama (1694-1755), Amsterdam; Christian Josi (before 1765-1828), Amsterdam and London (no mark; see Lugt 573); Johannes Andreas Jolles (d. before 1848), Amsterdam; Charles Fairfax Murray (1849-1919), London and Florence; from whom purchased through Galerie Alexandre Imbert, Rome, in 1909 by Pierpont Morgan (1837-1913), New York (no mark; see Lugt 1509); his son, J. P. Morgan, Jr. (1867-1943), New York.
Bibliography:
Collection J. Pierpont Morgan : Drawings by the Old Masters Formed by C. Fairfax Murray. London : Privately printed, 1905-1912, I, 139.
Jane Shoaf Turner, with contributions by Felice Stampfle, Dutch Drawings in the Pierpont Morgan Library: Seventeenth to Nineteenth Centuries, New York, 2006, cat. no. 20.
Notes:
The drawing was reproduced as one of the 55 color facsimiles of drawings by 17th-century Dutch artists that were added by Christian Josi (before 1765-1828) to the famous collection of 45 prenttekeningen ("printed drawings") published by Cornelis Ploos van Amstel (1726-98) between 1765 and 1787.
Associated names:
Feitama, Sybrand, 1694-1755, former owner.
Josi, Christian, -1828, former owner.
Jolles, Johannes Andreas, -before 1848, former owner.
Murray, Charles Fairfax, 1849-1919, former owner.
Morgan, J. Pierpont (John Pierpont), 1837-1913, former owner.