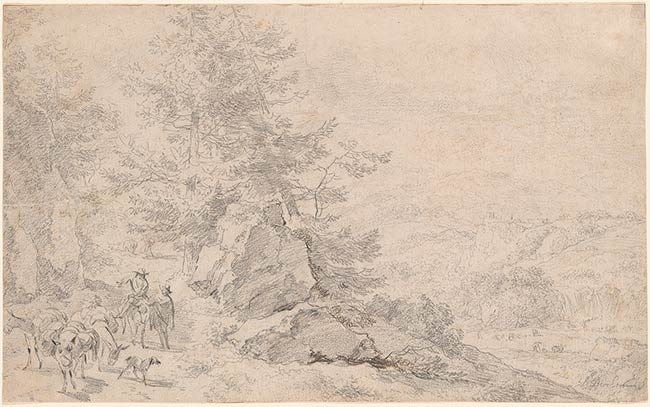 Nicolaas Pietersz Berchem
Pack Mules Descending a Mountain Road
Black chalk and oiled black chalk on paper.
11 1/8 x 18 1/16 inches (283 x 459 mm)
Purchased by Pierpont Morgan (1837-1913) in 1909.
Inscription:
Signed at lower right, in black chalk, "CPB(in ligature)erchem f".
Provenance:
Jacob de Vos (1735-1833), Amsterdam; his sale, Amsterdam, de Vries...Roos, 30-31 October 1833, Album P, lot 5: "Nicolaas Berghem / S. Eenige Landlieden op en bij beladen e zels. Luchtig en meesterlijk met zw. krijt geschetst" (to "de Vries" for 60 fl. on behalf of the great-nephew, Jacob de Vos Jbzn); Jacob de Vos Jbzn (1803-78), Amsterdam (Lugt 1450); his sale, Amsterdam, Roos, Muller..., 22-4 May 1883, probably one of three in lot 46: "Pâtres avec leurs troupeaux" (to "Thibaudeau" for 120 fl.), or one of five in lot 47: "croquis divers" (to "Amsler and Ruthardt" for 30 fl.); George Salting (1835-1909), London (no mark; see Lugt 2260-61); Charles Fairfax Murray (1849-1919), London and Florence; from whom purchased through Galerie Alexandre Imbert, Rome, in 1909 by Pierpont Morgan (1837-1913), New York (no mark; see Lugt 1509); his son, J. P. Morgan, Jr. (1867-1943), New York.
Bibliography:
Collection J. Pierpont Morgan : Drawings by the Old Masters Formed by C. Fairfax Murray. London : Privately printed, 1905-1912, III, 207, repr.
Von Sick, 1930, no. 130.
Stampfle, Felice. Rubens and Rembrandt in Their Century : Flemish and Dutch Drawings of the Seventeenth Century from The Pierpont Morgan Library. New York : Pierpont Morgan Library, 1979, no. 100, repr.
Jane Shoaf Turner, with contributions by Felice Stampfle, Dutch Drawings in the Pierpont Morgan Library: Seventeenth to Nineteenth Centuries, New York, 2006, cat. no. 22.
Associated names:
Vos, Jacob de, 1735-1833, former owner.
Vos Jacobszoon, Jacob de, 1803-1878, former owner.
Salting, George, 1835-1909, former owner.
Murray, Charles Fairfax, 1849-1919, former owner.
Morgan, J. Pierpont (John Pierpont), 1837-1913, former owner.