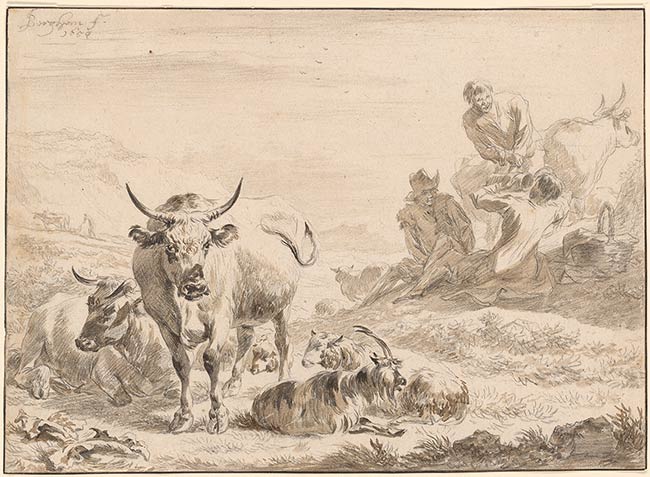 Nicolaas Pietersz Berchem
Cattle, Goats, and Sheep with Three Herdsmen, one Drinking
Black chalk, point of brush and brown wash, on paper; outlines indented with a stylus; framing line in dark brown ink.
7 1/4 x 10 inches (185 x 255 mm)
Purchased by Pierpont Morgan (1837-1913) in 1909.
Inscription:
Signed and dated at upper left, in black chalk, "Berghem f. / 1654". Inscribed on the verso, at lower left corner, in graphite, "No. ["o" in superscript] 340.-150; at lower center, in another hand, in graphite, "No. 14[or 13]"; and farther below, in still another hand, in graphite, "12 H".
Watermark: Countermark: Letters "PD" (similar to Churchill, no. 6: 1654-79), Letters centered between chain lines, Letter "P' has solid top.
Provenance:
C.J. Nieuwenhuys (1799-1883), Brussels, Belgium, and Oxford Lodge, Wimbledon, England; his sale, London, Christie's, 15 July 1887, lot 9: "N. Berchem. A Group of Cattle, and three peasants. Signed, and dated 1659" (to Fairfax Murray for £0.10.0); Charles Fairfax Murray (1849-1919), London and Florence; from whom purchased through Galerie Alexandre Imbert, Rome, in 1909 by Pierpont Morgan (1837-1913), New York (no mark; see Lugt 1509); his son, J. P. Morgan, Jr. (1867-1943), New York.
Bibliography:
Collection J. Pierpont Morgan : Drawings by the Old Masters Formed by C. Fairfax Murray. London : Privately printed, 1905-1912, I, 138, repr.
Jane Shoaf Turner, with contributions by Felice Stampfle, Dutch Drawings in the Pierpont Morgan Library: Seventeenth to Nineteenth Centuries, New York, 2006, cat. no. 18.
Notes:
The drawing was engraved, in reverse, by Johannes Visscher (1633-after 1692) as the third print in an etched and engraved series of four pastoral scenes (Hollstein, XLI, p. 68, under no. 97).
Associated names:
Nieuwenhuys, C. J., 1799-1883, former owner.
Murray, Charles Fairfax, 1849-1919, former owner.
Morgan, J. Pierpont (John Pierpont), 1837-1913, former owner.