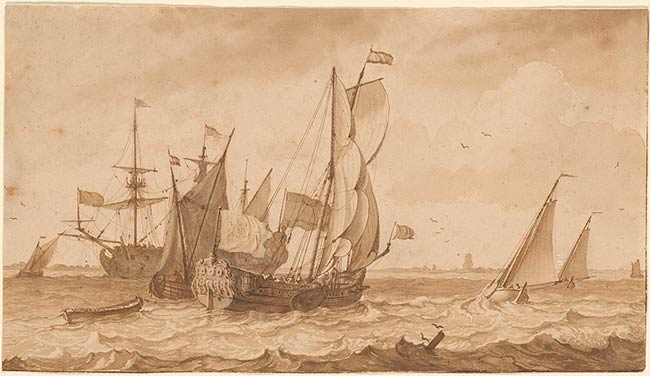 View across the IJ with the Village of Ransdorp in the Distance and a Dutch States Yacht of Amsterdam and other Ships before a Moderate Breeze in the Foreground
Point of brush and brown ink and wash, over graphite, on paper; framing line in brown ink at right and lower margins.
6 x 10 9/16 inches (152 x 268 mm)
Purchased by Pierpont Morgan (1837-1913) in 1909.
Inscription:
Monogrammed on the sideboard of the States yacht of Amsterdam, in brush and brown ink, "LB". Inscribed on the verso, at lower left, in brown ink, "Zj" ["j" in superscript]; and in graphite, "N 17 L. Bakhuisen" (i.e. the lot no. in the de Vos sale); at lower center, also in graphite, "21 / 5 / & printed notes"; and at upper center, in graphite, "Ludolf Bakhuizen".
Provenance:
Hendrik Harmen Klijn (1773-1856), Amsterdam; his sale, Amsterdam, Roos...Engelberts, 27 May 1856, lot 3: "L. Bakhuizen. Gezigt op het Y, met de toren van Ransdorp in het verschiet, rijk gestofferd met zeilende jachten en verdere vaartuigen; meesterlijk met de pen en roet" (to "de Vries" for 50 fl.); Jacob de Vos Jbzn (1803-78), Amsterdam (Lugt 1450); his sale, Amsterdam, Roos, Muller..., 22-4 May 1883, lot 17: "Vue su l'Y. Bakhuizen a pris cette vue devant le village de Ransdorp, dont on voit l'eglise, dans le lointain. La composition est richement étoffé de navires. Sur un yacht privé, qui a arboré un pavillon avec armoiries d'Amsterdam, on remarque les initialles du maître. Au lavis de bistre.-Hauteur 16, largeur 27 cent. Collection H.H. Kleyn" (to "van Gogh" for 75 fl.); possibly A.W. Thibaudeau (ca. 1840-ca. 1892), London and Paris; possibly his sale, London, Sotheby's, 9-13 December 1889, one of two in lot 1034: "Backhuyzen. Sea piece, pen and ink drawing, washed with indian ink; and another; from the De Vos Collection" (to "Deprez" for £0.19.0); Charles Fairfax Murray (1849-1919), London and Florence; from whom purchased through Galerie Alexandre Imbert, Rome, in 1909 by Pierpont Morgan (1837-1913), New York (no mark; see Lugt 1509); his son, J. P. Morgan, Jr. (1867-1943), New York.
Bibliography:
Collection J. Pierpont Morgan : Drawings by the Old Masters Formed by C. Fairfax Murray. London : Privately printed, 1905-1912, III, 223, repr.
Associated names:
Klijn, Hendrik Harmen, 1773-1856, former owner.
Vos Jacobszoon, Jacob de, 1803-1878, former owner.
Thibaudeau, Alphonse Wyatt, 1840-1893, former owner.
Murray, Charles Fairfax, 1849-1919, former owner.
Morgan, J. Pierpont (John Pierpont), 1837-1913, former owner.