Marine View of a Dutch Man-of-War
Black ink and wash, over graphite, on paper; framing line in brown ink.
10 9/16 x 14 1/4 inches (268 x 362 mm)
Purchased by Pierpont Morgan (1837-1913) in 1909.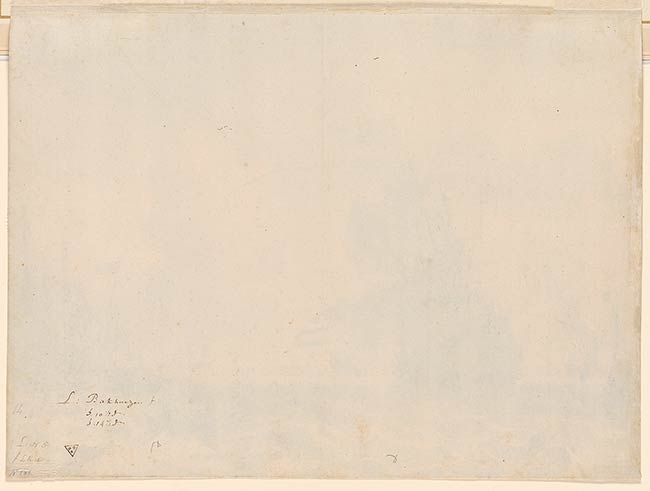 Inscription:
Signed and dated, in brush and black ink, at lower left, on the floating barrel, "LB"; at upper center, on the flag of the "Amsterdam", "1688". Inscribed on the verso, at lower left, in Ploos van Amstel's hand, in brown ink, "L: Bakhuizen f / h. 10 1/2 dm ["m" in superscript]/ b: 14 1/2 dm ["m" in superscript]"; at lower left corner, over dry stamp of Ploos van Amstel, in another hand, in graphite, "L:N5 / f Lhu / No. ["o" in superscript] 505"; above that, in still another hand, in graphite, "14".
Watermark: Arms of Amsterdam on a platform, over letters "AJ"; rampant lion, three stacked 'x's
Watermark: Countermark: Letters "PR" (similar to Heawood, no. 391: Holland, 1689); Letters between chain lines, touching at top and bottom of "P".
Provenance:
Unidentified eighteenth-century collector (similar, but not identical to Lugt S. 2986b); Cornelis Ploos van Amstel Jb Czn (1726-98), Amsterdam (Lugt 2034, 3003-4); his sale, Amsterdam, van der Schley...Roos, 3ff. March 1800, Album P, lot 1 (to "IJver" for 305 fl.); Robert Stayner Holford (1808-92), London (Lugt 2243); his sale, London, Christie's, 11-14 July 1893, lot 616 (to "Davis" for £10.0.0); Charles Fairfax Murray (1849-1919), London and Florence; from whom purchased through Galerie Alexandre Imbert, Rome, in 1909 by Pierpont Morgan (1837-1913), New York (no mark; see Lugt 1509); his son, J. P. Morgan, Jr. (1867-1943), New York.
Bibliography:
Collection J. Pierpont Morgan : Drawings by the Old Masters Formed by C. Fairfax Murray. London : Privately printed, 1905-1912, III, 220, repr.
Stampfle, Felice. Rubens and Rembrandt in Their Century : Flemish and Dutch Drawings of the Seventeenth Century from The Pierpont Morgan Library. New York : Pierpont Morgan Library, 1979, no 119, repr.
Jane Shoaf Turner, with contributions by Felice Stampfle, Dutch Drawings in the Pierpont Morgan Library: Seventeenth to Nineteenth Centuries, New York, 2006, cat. no. 10.
Associated names:
Ploos van Amstel, Cornelis, 1726-1798, former owner.
Holford, Robert Stayner, 1808-1892, former owner.
Murray, Charles Fairfax, 1849-1919, former owner.
Morgan, J. Pierpont (John Pierpont), 1837-1913, former owner.