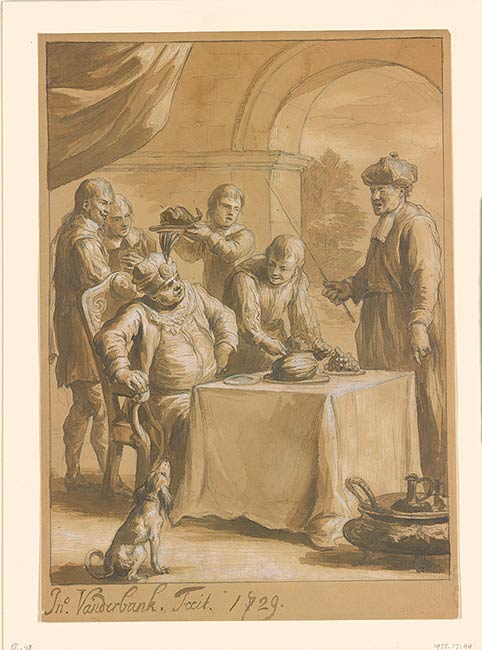 The Dishes Taken Away From Sancho Before He Has Tasted Them
Brush and several shades of brown wash,with white opaque watercolor, over graphite, on paper tinted with a light brown wash.
11 x 7 3/4 inches (279 x 197 mm)
Purchased by Pierpont Morgan in 1909.
Inscription:
Inscribed in point of brush and brown wash at lower left, "Jno Vanderbank. Fecit. 1729".
Provenance:
Purchased by Pierpont Morgan in 1909.
Notes:
Watermark: none.
Removed from an extra-illustrated edition of Cervantes's "Don Quixote de la Mancha", London, T. Cadell and W. Davies, 1818 (PML 4039-4047). The edition contained sixty-four sheets by Vanderbank for the engraved plates, one drawing for the tailpiece, and a design by Thomas Rowlandson for the frontispiece to volume II (1975.17:66).
Preparatory design for plate 48.
Associated names:
Cervantes Saavedra, Miguel de, 1547-1616. Don Quixote.