Storming Badajoz (?). Verso: various sketches
Pen and brown ink and wash, over black chalk, on paper; verso: pen and brown ink and graphite.
7 1/16 x 8 15/16 inches (179 x 227 mm)
Purchased by J. Pierpont Morgan (1837-1913) in 1895.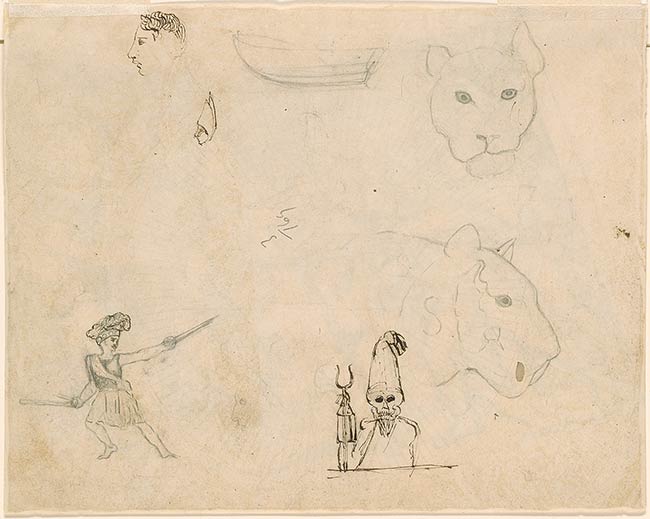 Inscription:
Inscribed in graphite at upper left, "No. 12"; at lower left, "From Wellesley / Coll:"; in a different hand, "Storming Badajoz (?)"; in same hand as first, "(One of Wellington Shield designs)"; at lower right, "Th. Stothard".
Provenance:
Rev. Dr. Henry Wellesley (no mark; see Lugt 1384); volume purchased by J. Pierpont Morgan from Pearson and Co., London, 1895.
Notes:
Watermark: W. Turner and Son.
Design for one of the Duke of Wellington's Shields.
Removed from the Library's copy of the 1858-60 English translation of Alexis Henri Brialmont's "History of the Life of Arthur, duke of Wellington", vol. VII, p. 169 (PML 7907).
Associated names:
Wellesley, Henry, 1791-1866, former owner.
Brialmont, Alexis Henri, 1821-1903, History of the life of Arthur, duke of Wellington.