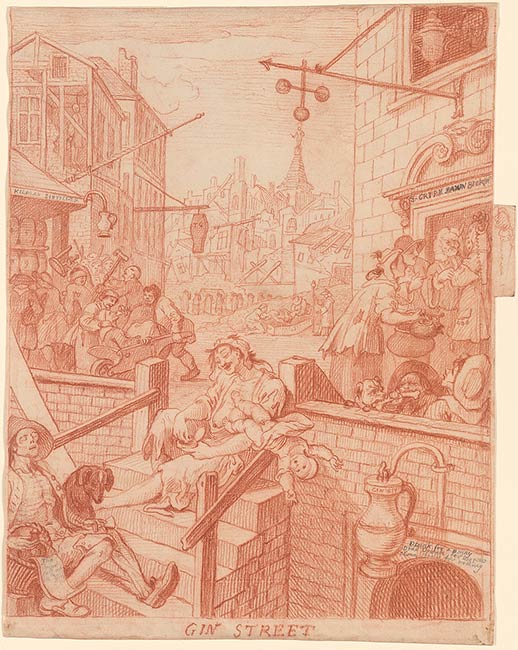 Red chalk, graphite, on paper, incised with stylus; verso rubbed with red chalk.
15 1/2 x 12 1/8 inches (394 x 306 mm)
Purchased by Pierpont Morgan (1837-1913) in 1909.
Inscription:
Watermark: Fleur-de-lis.
Watermark (countermark): Letters "IV".
Provenance:
Artist's studio, presumably until 1764, and then by descent to his widow, Jane (Thornhill) Hogarth (1709-1789?), London; Dr. Rev. Michael Lort (1724/25-1790), Oxford and London; his sale, Leigh and Sotheby, London, 2 June 1791, lot 69, for 84..-..-; London art market [?]; Dr. Jaspar Robert Joly (1819-1892), Clonbullogue, near Dublin, possibly after 1863; his sale, Sotheby's, London, 18-19 February 1892, in a lot containing 25 volumes with 158 drawings and 6,097 prints bought by Bernard Quaritch, London; Charles Fairfax Murray (1849-1919), London and Florence; from whom purchased through Galerie Alexandre Imbert, Rome, in 1909 by Pierpont Morgan (1837-1913), New York (no mark; see Lugt 1509); his son, J.P. Morgan, Jr. (1867-1943), New York.
Bibliography:
Collection J. Pierpont Morgan : Drawings by the Old Masters Formed by C. Fairfax Murray. London : Privately printed, 1905-1912, III, 36.
Wiles, Stephanie. To Observe and Imagine : British Drawings, 1600-1900. New York : Pierpont Morgan Library, 1998, no. 18, repr.
From Leonardo to Pollock: Master drawings from the Morgan Library. New York: Morgan Library, 2006, cat. no. 58, p. 124-125.
Notes:
Preparatory drawing for the engraving "Gin Lane."
The more alarming events in Gin Lane explore the degradation that went hand in hand with drinking imported gin, a scourge that was thought to impact women in particular. At center, a drunken mother seated on stairs above a gin cellar drops her baby as she reaches for a pinch of snuff. Others caught up in the Gin Craze pawn their clothes and kettles for money to buy the drink, while their fellow Londoners fight dogs for bones or attack each other outside the aptly named Kilman Distillery. At upper left a suicide hangs from the rafters, while a burial takes place beneath a coffin maker's shop sign. The recognizable setting, with the tower of St. George's, Bloomsbury, in the distance, is the impoverished and derelict district of St. Giles in Westminster. The drawing was referred to as Gin Street before Hogarth settled on the final titles for the series. -- Exhibition Label, from "Hogarth: Cruelty and Humor"
See also the record for the pendant drawing Beer Street (III, 37).
Associated names:
Hogarth, Jane, 1711?-1789, former owner.
Lort, Michael, 1725-1790, former owner.
Joly, J. R. (Jasper Robert), former owner.
Murray, Charles Fairfax, 1849-1919, former owner.
Morgan, J. Pierpont (John Pierpont), 1837-1913, former owner.
Morgan, J. P. (John Pierpont), 1867-1943, former owner.