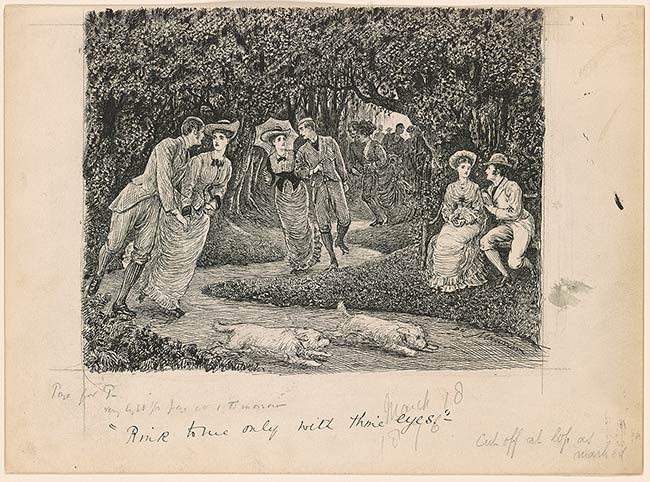 Rink to me only with thine eyes
Pen and black ink, over traces of pencil, on wove paper.
Full sheet: 9 7/8 x 13 1/2 inches (250 x 342 mm); design area: 7 11/16 x 9 11/16 inches (195 x 247 mm)
Gift of Harper & Brothers as part of the Harper Collection.
Inscription:
Signed on the pathway at lower right, "Du Maurier"; below image, "Rink to me only with thine eyes"; inscribed in graphite, "Page for P- / very light 1/2 page at 1 tomorrow" and in a different hand, "March 18 / 1876 / Cut off at top as / marked". Inscribed by the artist on verso, in graphite, "John Thomas to the rescue! / Rink society in the provinces is apt to be rather / mixed. At all events, Lady Fitz-toppington / thinks so, & will not hear of her fair daughters / skating without such attendance as befits their / rank and station"; and below, upside down, "galleries".
Provenance:
Harper and Brothers, New York.