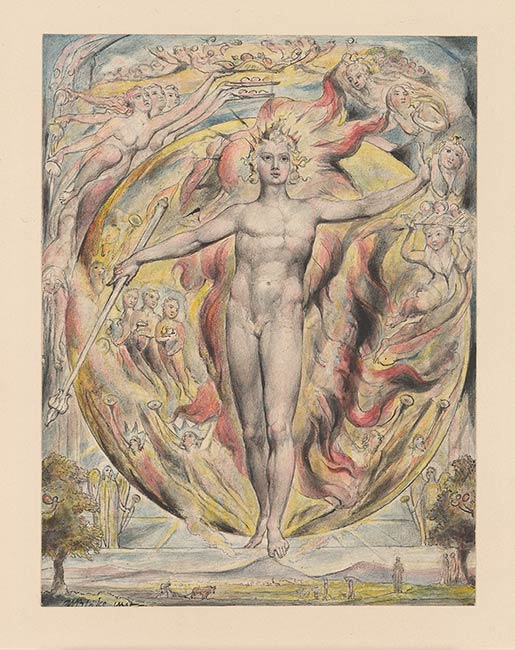 The Sun at His Eastern Gate
Watercolor over graphite on paper.
6 3/8 x 4 13/16 inches (161 x 122 mm)
Purchased with the assistance of the Fellows with the special support of Mrs. Landon K. Thorne and Mr. Paul Mellon.
Inscription:
Signed, in pen and black ink at lower left, "W. Blake inv."
Provenance:
Thomas Butts; Richard Monckton Milnes, first Lord of Houghton; Earl of Crewe; Marsden J. Perry; Alfred T. White; Mr. and Mrs. Adrian van Sinderen.
Bibliography:
First annual report to the Fellows of the Pierpont Morgan Library / Frederick B. Adams, Jr. New York : The Library, 1950, p. 56-60.
A review of acquisitions, 1949-1968 / Pierpont Morgan Library. New York : The Library, 1969, p. 132.
Notes:
The third of six illustrations for Milton's "L'Allegro".
Drawings removed from binding [B3 027 A11].
Associated names:
Illustrations for (work): Milton, John, 1608-1674. Allegro.
Butts, Thomas, 1759-1846, former owner.
Houghton, Richard Monckton Milnes, Baron, 1809-1885, former owner.
Crewe, Earl of, former owner.
Perry, Marsden J. (Marsden Jasiel), 1850-1937, former owner.
White, Alfred T., former owner.
Thorne, Landon K., Mrs., donor.
Van Sinderen, Adrian, 1887-1963, former owner.
Van Sinderen, Adrian, Mrs., former owner.
Mellon, Paul, donor.