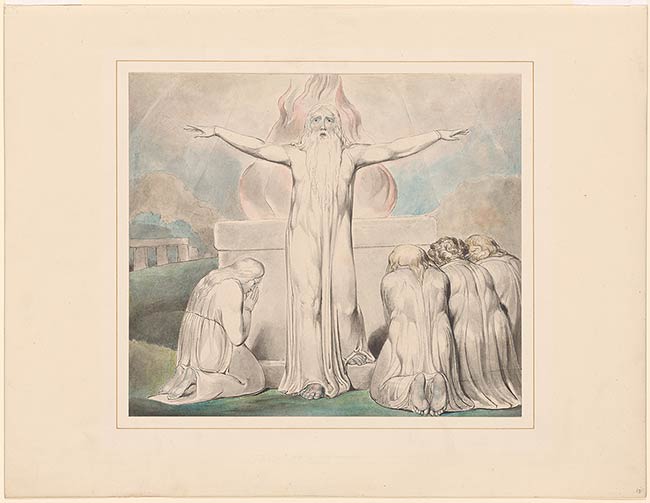 Pen and black and gray ink, gray wash, and watercolor, over faint indications in pencil, on paper.
8 5/8 x 9 7/8 inches (219 x 251 mm)
Purchased by Pierpont Morgan (1837-1913) in 1909.
Provenance:
Thomas Butts; Richard Monckton Milnes, 1st Lord Houghton (1809-1885); Robert Offley Ashburton Milnes, 4th Baron and Marquess of Crewe; Crewe sale, London, Sotheby's, March 1903, lot 17; purchased through Quaritch by J. Pierpont Morgan, 30 June 1903.
Notes:
One of twenty-one original drawings executed for Thomas Butts, ca. 1805-10, illustrating the Book of Job. This sheet is no. 18 in the series.
Associated names:
Butts, Thomas, 1759-1846, former owner.
Houghton, Richard Monckton Milnes, Baron, 1809-1885, former owner.
Crewe, Robert Offley Ashburton Crewe-Milnes, Marquis of, 1858-1945, former owner.
Morgan, J. Pierpont (John Pierpont), 1837-1913, former owner.