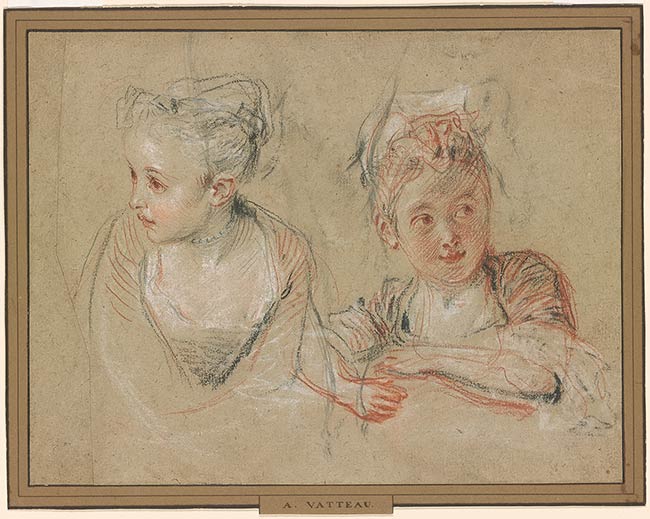 Two Studies of the Head and Shoulders of a Little Girl
Black, red, and white chalk on buff paper; drawn over black chalk sketch of legs.
7 3/8 x 9 5/8 inches (187 x 245 mm)
Purchased by J. Pierpont Morgan (1837-1913) 1911.
Provenance:
Andrew James; his daughter, Sarah Ann James, 1878; probably her sale, London, Christie's, 22-23 June 1891; anonymous sale, London, Christie's, 16 June 1911, lot 76; Thomas Agnew & Sons, London; from whom purchased by J. Pierpont Morgan (no mark; see Lugt 1509).
Description:
Watteau rarely made drawings that were directly preparatory for painted compositions. Instead, he produced a large number of sheets of studies from life of men, women, and children in various poses that he kept in his studio and used when needed. The study at right on this sheet was used for the figure of a little girl, seated at her mother's knee, listening to a concert, in the painting The Music Lesson. This sheet was acquired by Morgan in 1911.
Notes:
Watermark: none visible through lining.
There is an irregular vertical strip added to the left side of the sheet.
This drawing was etched by François Boucher in "Figures de différents caractères, de paysages et d'études" (as no. 214), a compendium of 103 prints after Watteau's drawings published as tribute to the artist soon after his death.