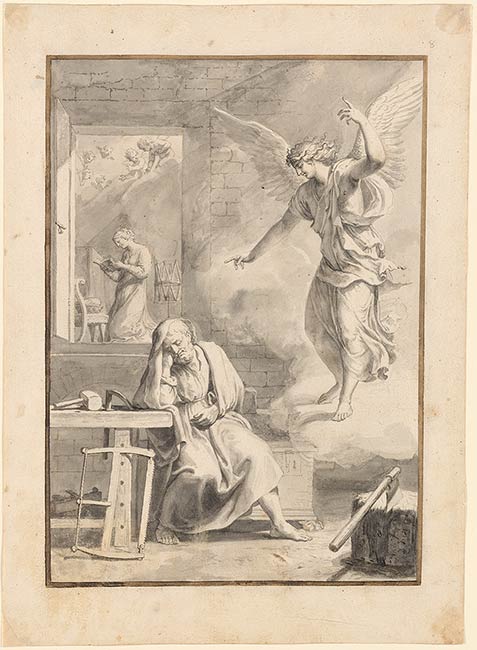 The Angel Appearing to St. Joseph in the Carpenter's Shop the Virgin Reading Beyond
Pen and brown ink, brush and black ink and wash, over black chalk, on laid paper; ruled border in brown ink.
Sheet: 14 1/2 x 10 7/16 inches (368 x 265 mm); design area: 11 15/16 x 8 1/4 inches (300 x 210 mm)
Purchased on the Director's Fund in honor of Mrs. Charles Wrightsman.
Inscription:
Inscribed at upper right, "8".
Watermark: Crowned shield with three fleurs-de-lis inside.
Provenance:
From an album containing Stella's Life of the Virgin series assembled by Claudine Bouzonnet-Stella (1636-1697), the artist's niece (and listed in her 1697 will); by descent to Michel de Masso (active ca. 1700), Paris; Gaetano Minossi Romano (fl. 1750s), Rome, by ca. 1756; Thomas Mansel Talbot (1747-1813), Margam Abbey, Wales, by ca. 1776; by descent to Lady Beythswood, Penrice Castle, Glamorgan; by descent to Christopher Methuen-Campbell (1928-1998) of Penrice Castle, Glamorgan; Aldega-Gordon, New York (the album dismembered and individual sheets sold); sale, London, Christie's, 9 December 1986, lot 127.
Bibliography:
Ryskamp, Charles, ed. Twenty-First Report to the Fellows of the Pierpont Morgan Library, 1984-1986. New York : Pierpont Morgan Library, 1989, p. 381.
Denison, Cara D. French Master Drawings in the Pierpont Morgan Library. New York : Pierpont Morgan Library, 1993, no. 18, repr.
Notes:
After fifteen years working in Italy, the Lyon-born Stella returned to France in 1634 and became painter to Louis XIII. In the 1640s, Stella produced a series of drawings illustrating the Life of the Virgin. Twenty-two sheets from the series were gathered in an album assembled by the artist's niece Claudine Bouzonnet-Stella. The album was inherited by her relative Michel de Masso before passing into the hands of Gaetano Minossi Romano.
Anthony Blunt chronicled how Gaetano Minossi Romano organized a subscription to have the drawings, which he claimed were by Poussin, engraved. The prints were made by Francesco Polanzani and Minossi published them in 1756 as by Poussin. When Mariette saw a set of the prints, he recognized them as the work of Jacques Stella. Nevertheless, Minossi sold the album of "Poussin" drawings to Thomas Talbot in 1776.
The scenes from the Virgin's life reveal the qualities for which Stella was revered in his day, and which he had absorbed from Poussin: a balanced composition; acute attention to expression, gesture, and the details of objects and costumes; and a sense of intimate interaction among the figures. See also the artist's "The Virgin and St. Joseph before the Scribes of the Census" from the same series (Acc. No. 1995.6).
Associated names:
Bouzonnet-Stella, Claudine, former owner.
Masso, Michel de, former owner.
Romano, Gaetano Minossi, former owner.
Talbot, Thomas, former owner.
Methuen-Campbell, Christopher, former owner.