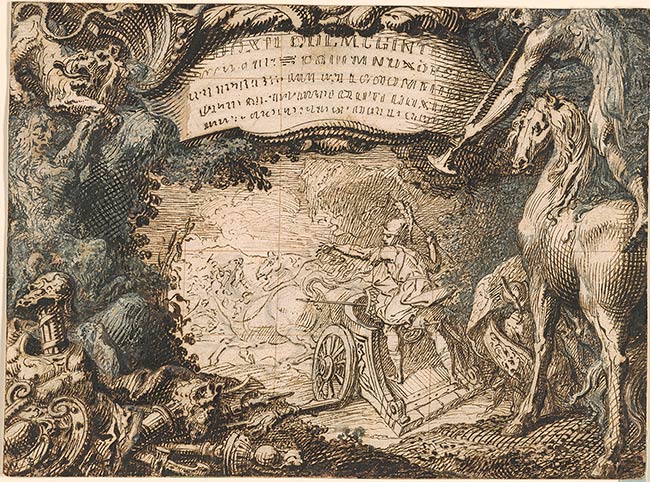 Design for a Title Page, with Warrior Heading into Battle
Pen and brown ink, and white opaque watercolor, over graphite, on paper; squared with a ruling pen and red-brown ink.
6 3/16 x 8 3/8 inches (157 x 213 mm)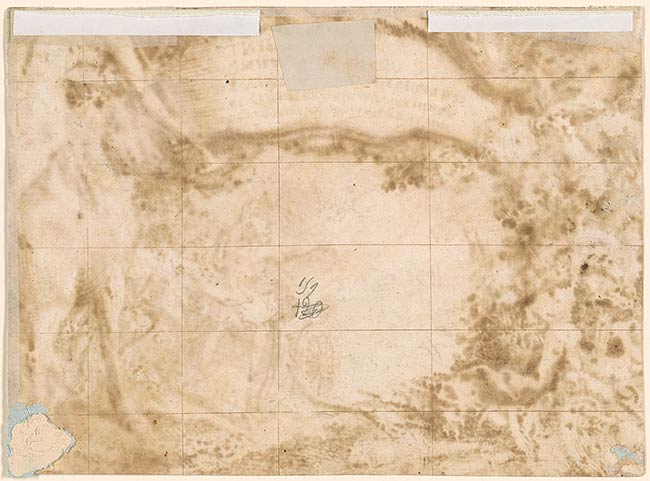 Inscription:
Mock inscription in pen and brown ink in cartouche; inscribed on verso of lining in pencil, "159"; below it, crossed out, "120".
Provenance:
Charles-Eugene Berard (1838-1890s), Paris; his sale, Paris, Hotel Drouot, 16-20 February 1891, lot 301 A-B; Armand Sigwalt (1875-1952), Paris (Lugt 175); Henri Baderou (1910-1991), Paris.
Bibliography:
Pierpont Morgan Library. Review of Acquisitions, 1949-1968. New York : Pierpont Morgan Library, 1969, p. 157.
Adams, Frederick B., Jr. Fourteenth Annual Report to the Fellows of the Pierpont Morgan Library, 1965 & 1966. New York : Pierpont Morgan Library, 1967, p. 120.
Notes:
Watermark: none visible through lining.
This is a preparatory sketch for a title-page, depicting a Roman soldier on a chariot, which may have been intended for a heroic tale of the antique, such as Virgil's "Aeneid". A preliminary design for the same title-page by Oppenord is also in the Morgan's collection (Acc. No. 1964.22).
At left, two lions tussle above a heap of Roman military trophies including helmets, armor, shields, fasces, torches and lances. At right, a horse follows the onrush of soldiers to the battlefield while a winged boy blows a trumpet heralding the attack. Here, Oppenord has made the composition more symmetrical and stable and created greater space for the accompanying text.
One of the leading architects and designers of interiors during the first quarter of the eighteenth century, Oppenord produced a large number of designs for book illustrations toward the end of his career. Neither of the two frontispiece projects documented in the Morgan's collection were realized in print.
Associated names:
Bérard, Charles-Eugène, former owner.
Sigwalt, Armand, former owner.