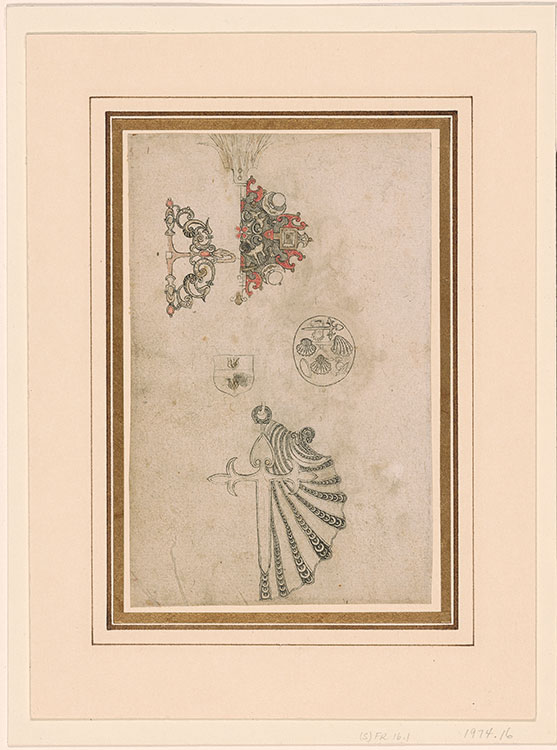 Attributed to Daniel Mignot
Sheet of Jewelry Designs for Brooches and Pendants. Verso: Design for a pendant with flowers and a snail
Pen and black ink, red and light brown wash on paper; verso: pen and brown ink.
5 1/4 x 3 3/8 inches (134 x 85 mm)
Purchased as the gift of Mr. and Mrs. E. Powis Jones and Mr. Henry P. McIlhenny.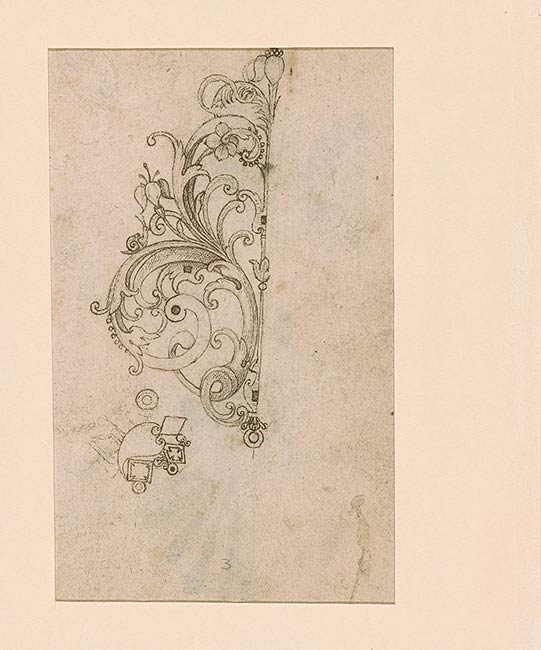 Provenance:
Sale, C.G. Boerner, Dusseldorf, 3 April 1974.
Bibliography:
Ryskamp, Charles, ed. Seventeenth Report to the Fellows of the Pierpont Morgan Library, 1972-1974. New York : Pierpont Morgan Library, 1976, p. 173-174.
Notes:
Watermark: none.
The attribution of this sheet to Mignot is largely based on a comparison with several of his published ornament prints. The same ornamental elements, scrollwork, and use of faceted, rectangular gem stones are seen in both the present sheet and the related prints. Mignot is also known to have done blackwork designs for enameling as seen in the partial design for the largest shell on the recto of this sheet.
An alternative attribution to an engraver and metalsmith known as M. Christollien (1601-1700) has been proposed based on the "lace-like character" of the design relative to Mignot's more forceful pen strokes.
The sheet contains two studies for enameled brooches at top, with half of a symmetrical model delineated for each brooch. At center is a small coat of arms and a circular medallion with three shells, a cuirass, helmet, and shield, and the sword of the military religious order of Santiago de la Espada. This same sword is dominant in the lower design for a pendant with a shell and sword. The sword and shell are symbols associated with the pilgrim St. James, and these devices likely represent the Order of St. James, which suggests that the designs were destined for a knight of this order.
The verso contains a study for a scrollwork brooch with floral decoration and a snail.
Associated names:
Jones, Edward Powis, 1919-1998, donor.
Jones, Edward Powis, Mrs., donor.
McIlhenny, Henry P., donor.