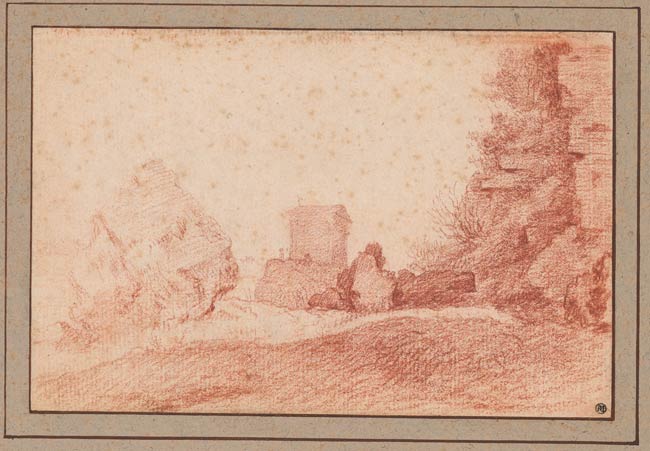 Landscape with a Small Temple
Red chalk on paper, laid down on a Mariette mount.
4 3/16 x 6 5/16 inches (106 x 161 mm)
Purchased on the Lois and Walter C. Baker Fund.
Inscription:
Inscribed on verso of mount, likely by Jean de Vichet, "Du Cabinet de Mariette et Ces dessins ont appartenu a Atger qui donna une importante collection de dessins a la faculte de medecine de Montpellier en 1830."
Provenance:
Pierre-Jean Mariette (1694-1774), Paris (on his mount; Lugt 1852); his sale, Paris, 15 November 1775-30 January 1776,, lot 1289; purchased by "Lachaise"; Xavier Atger (1758-1833), Montpellier (according to Vichet's records; see under Lugt 38); Jean de Vichet (b. 1885), Montpellier (Lugt S. 1549); his sale, Paris, Hotel Drouot, 16 November 1984, lot 186; Jacques Petit-Horry (1929-1992), Paris.
Bibliography:
Ryskamp, Charles, ed. Twenty-First Report to the Fellows of the Pierpont Morgan Library, 1984-1986. New York : Pierpont Morgan Library, 1989, p. 360.
Notes:
Watermark: none visible through lining.
Although primarily known as a portraitist, Mellan produced a small number of landscape drawings during his sojourn in Italy, which began in 1624. While there, he was mentored by Simon Vouet, who encouraged him to draw. The two small scale red chalk landscapes by the artist are rare examples of his efforts in the genre among Mellan's roughly 100 extant drawings (see also 1985.55:2). The connoisseur Pierre Mariette would have appreciated this fact when he united the two studies by the artist on one mount.
Associated names:
Mariette, Pierre Jean, 1694-1774, former owner.
Atger, Xavier, 1758-1833, former owner.
Vichet, Jean de, 1885-1975, former owner.
Petit-Horry, Jacques, former owner.