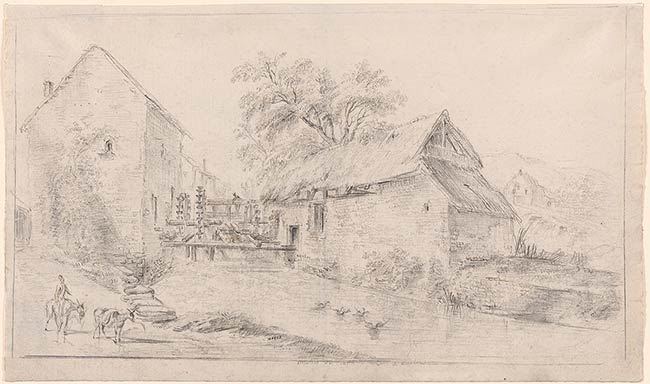 View of a Mill on the River Cousin, Avalon
Black chalk with touches of brown ink, on paper; ruled border.
sheet: 9 1/8 x 15 7/17 inches (230 x 392 mm); design area: 8 1/4 x 14 13/16 inches (209 x 376 mm)
Purchased as the gift of Mrs. Charles Wrightsman.
Inscription:
Inscribed by the artist in ink, at lower margin, "moulin du cousin de front a avalon".
Provenance:
Presumably Earl of Elgin; Kate de Rothschild, London.
Bibliography:
Ryskamp, Charles, ed. Twenty-First Report to the Fellows of the Pierpont Morgan Library, 1984-1986. New York : Pierpont Morgan Library, 1989, p. 355.
Notes:
Watermark: Hunting horn within a shield surmounted by a crown, VANDERLEY below (close to Heawood 2749). Watermark, beta radiograph. Hunting horn in shield, surmounted by crown, VANDERLEY below. 109885wm_1986_52_Lallemand_WM_beta.jpg