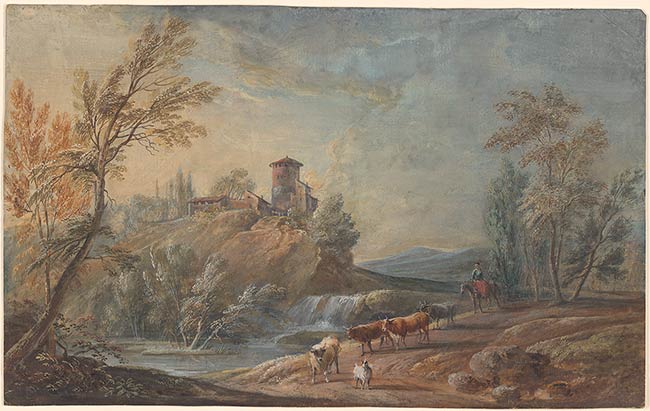 Imaginary Landscape with Cattle, Monastic Buildings, and a Small Cascade on a River
Gouache, over graphite, on paper.
10 1/4 x 16 3/8 inches (260 x 417 mm)
Purchased on the Sunny Crawford von Bülow Fund 1978.
Inscription:
Signed at lower right, in pen and white ink, "lallemand"; numbered on back of old mount, in pen and brown ink, "No 13".
Provenance:
Adolphe Stoll, Paris (Lugt 2786c); private collection, Massachusetts; acquired from E. V. Thaw and Co., Inc., New York.
Bibliography:
Ryskamp, Charles, ed. Twentieth Report to the Fellows of the Pierpont Morgan Library, 1981-1983. New York : Pierpont Morgan Library, 1984, p. 269-270.
Denison, Cara D. French Drawings, 1550-1825. New York : Pierpont Morgan Library, 1984, no. 59.
Denison, Cara D., with Stephanie Wiles and Ruth S. Kraemer. Fantasy and Reality : Drawings from the Sunny Crawford von Bülow Collection. New York : Pierpont Morgan Library, 1995, no. 10, repr. in color.
Notes:
Watermark: none visible through lining.
Paintings in gouache on paper surged in popularity in the last quarter of the eighteenth century and Lallemand, a Burgundian artist who specialized in landscape scenes, found an audience for his rustic, idealized views of the French countryside.
The son of a tailor in Dijon, Lallemand was trained in his father's métier but used his leisure time to draw and paint. Rather than finding work as a tailor in Paris, he found a patron for his paintings, and by 1745 he was accepted at the Académie of St. Luke. He soon ventured to Rome, where he married and enjoyed considerable success before returning to France in 1761. His signal accomplishment was the ninety-nine views he produced for illustrations to Volume V of the "Description générale et particulière ou Voyage pittoresque de la France", Paris, 1781. This magnum opus, commissioned by Jean Benjamin de Laborde and others, was intended to form twelve volumes, though only eight were completed.
This landscape reflects Lallemand's intimate relationship with Burgundy and the Franche-Comté. Certain elements of the composition such as the round tower, the cattle, the shepherdess on horseback, the waterfall, and the trees bending in a gentle breeze, were observed by the artist while sketching sites intended for the "Voyage pittoresque." While an imagined scene, this drawing's affinity with the landscapes of the "Voyage pittoresque" suggests a date between 1771 and 1781.
Associated names:
Stoll, Adolphe, former owner.