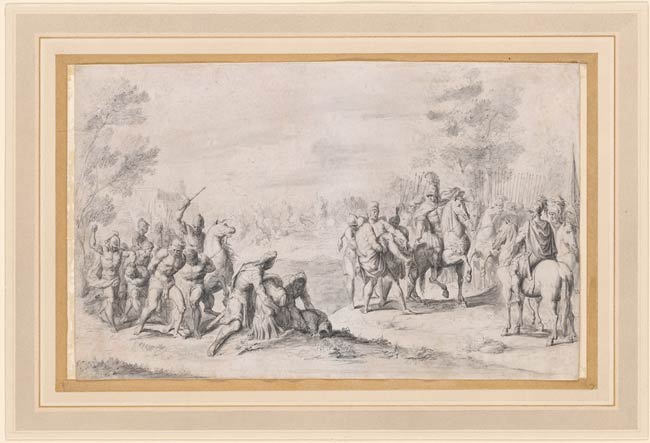 The Wounded Porus brought to Alexander the Great
Pen and black ink and wash, on parchment.
7 1/4 x 11 5/8 inches (185 x 295 mm)
Purchased by Pierpont Morgan (1837-1913) in 1909.
Inscription:
Inscribed in pen and gray ink at lower right, "La Fage fecit et invenit".
Provenance:
George Knapton (1698-1778), London; bequeathed by him to General Morrison (1704?-1799), London; Knapton-Morrison sale, London, T. Philipe, 25 May 1807, part of lot 347, sold to "Mrs. Peters"; Charles Fairfax Murray (1849-1919), London and Florence; from whom purchased through Galerie Alexandre Imbert, Rome, in 1909 by Pierpont Morgan (1837-1913), New York (no mark; see Lugt 1509); his son, J. P. Morgan, Jr. (1867-1943), New York.
Bibliography:
Collection J. Pierpont Morgan : Drawings by the Old Masters Formed by C. Fairfax Murray. London : Privately printed, 1905-1912, III, 87, repr.
Denison, Cara D. French Drawings, 1550-1825. New York : Pierpont Morgan Library, 1984, no. 32.
Notes:
La Fage is a curious character: obsessed with drawing, he never learned to paint. The two battle scenes in the Morgan's collection, executed on costly and precious vellum, reflect his engagement with Parisian classicism and pagan subjects. Proficiently composed and carefully refined, these compositions were conceived to please Parisian collectors and antiquarians. The present sheet and inv. III, 87a were described in the 1807 Knapton-Morrison sale as "a pair--the wounded Porus brought to Alexander; and Alexander's triumphal entry into Babylon--fine spirited pen, and Ind. Ink, on vellum, highly finished, and most capital of the master." The subjects stem from tales of Alexander the Great's conquest of India and defeat of King Porus at the Battle of Hydaspes in 326 BCE. As Alain Combres notes, La Fage explored Alexander's adventures in a number of fine drawings, likely inspired by Gerard Audran's prints published in 1672-78, which reproduced Charles Le Brun's monumental cycle of four paintings devoted to Alexander, executed in 1665-1673.
Associated names:
Murray, Charles Fairfax, 1849-1919, former owner.
Morgan, J. P. (John Pierpont), 1867-1943, former owner.